7.22.22 – CEPro
To hide or not to hide? That is the question. Some homeowners want to show off the beauty of technology and how the products can enhance or complement the design of the home. Other clients want the technology to blend into the home décor or don't want to see the technology at all. Indeed, the conundrum can be as vexing as the troubles faced by Shakespeare's Hamlet.
This common situation is what prompted the first-ever CE Pro Hidden Technology & Design Deep Dive Survey with the goal of trying to determine how prevalent the requests are for "invisible" technology while examining various solutions integrators have developed, both in terms of installation and in how they discuss the issue with their customers. The data shows that it is not necessarily a foregone conclusion that customers do not want to see the technology.
Shalom Illouz, president of Powerfull Systems Inc. in Los Angeles, is one integrator who consistently experiences requests to hide the technology. So much so that Illouz created a company called See-Less Solutions about five years ago specifically aimed at hiding various devices such as keypads, wireless access points and tape lighting.
"When we get our projects published in Architectural Digest and other publications, a lot of times they photoshop the technology out of the images," remarks Illouz. "They want to focus on the aesthetic of the space. Even though the technology is there, they make that disappear."
Illouz points out that it is vital that integrators do not diminish the performance of the products they install by going to lengths to make them "disappear." Hiding speakers behind surfaces so the sound is not of sufficient quality or concealing tape lighting so much that is loses its impact on illumination defeats the purpose of the technology itself.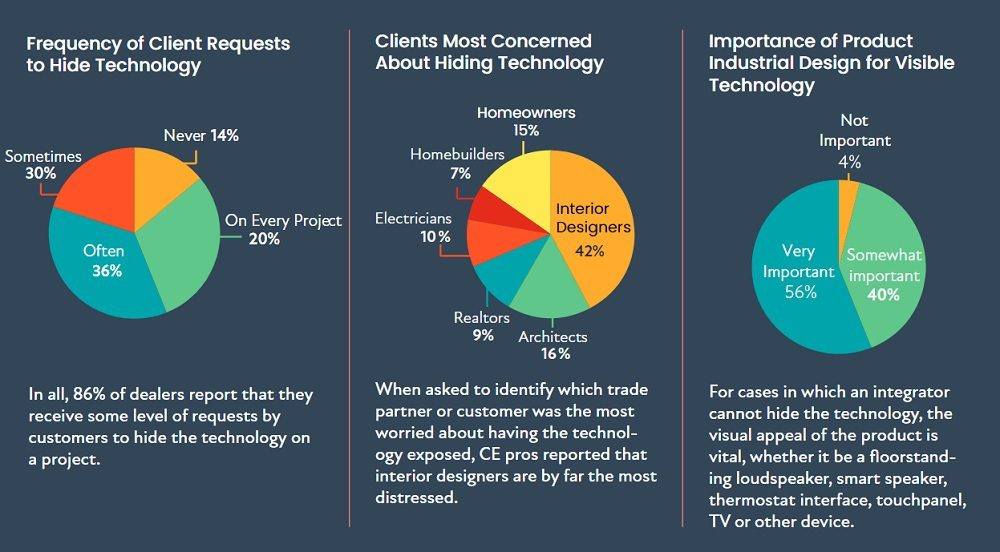 "You don't want to have that 'fight' with the design team as to where to implement the technology," says Illouz.
"There's a reason the design team — the designers and architects — don't want to see it, while we are very excited about the technology. Focusing on that difference, I came to the realization that I needed to tell people that the technology is the backbone of every house, and I can make it a little less painful by getting the design to a place where the technology is there, but it's being seen less. The whole idea is to see less of that technology; even though you can't make it disappear, you can make it be less obtrusive and a little bit more low key. It's a small detail that makes a big impression.
"Yesterday I met with on a job site with an architect, and he said, 'Hey you know I really love See-Less. It's such a great little detail that I don't mind having the technology in the space anymore, because it's just not obtrusive anymore.'"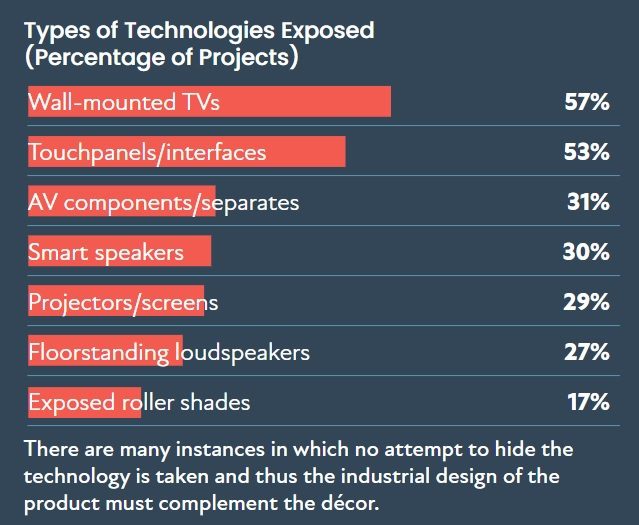 According to the survey data, 86% of dealers say they are being asked to hide at least some part of the technology on their projects.
That means 14% are encountering clients who don't mind having equipment exposed in the space, for example, versus having it tucked away in a closet.
That's where the integration of attractive furniture from companies like Salamander Designs and others can play a part.
One in every five integrators (20%) say they are asked to hide the technology on every project they deploy.
So, what sort of discreet technologies are integrators using?
As noted, putting the equipment rack out of site in a utility closet is the most common request, followed by bezel-less architectural speakers, small-aperture lighting fixtures, flush-mount touchpanels/switches, and motorized window treatments tucked away in ceiling soffits.
Other semi-popular tactics used to hide the technology include motorized projection screens, TV or projector lifts, separate rooms for long-throw projectors, and invisible speakers behind drywall.
On outdoor projects, burying cable, buried subwoofers and rock speakers are the most common requests.
Not surprisingly, the trade partners who by far are the most concerned about hiding the technology are interior designers. When asked to rank which trade partners (or clients) wanted technology to be discreet, 42% of integrators list interior designers as the most apprehensive about seeing the technology. That is almost three times more than any other trade partner. Architects, homeowners, electricians, real estate agents and homebuilders rounded out the list in order. Not unexpectedly, only 7% of builders care about hiding the technology.
But what about situations in which the technology cannot be hidden?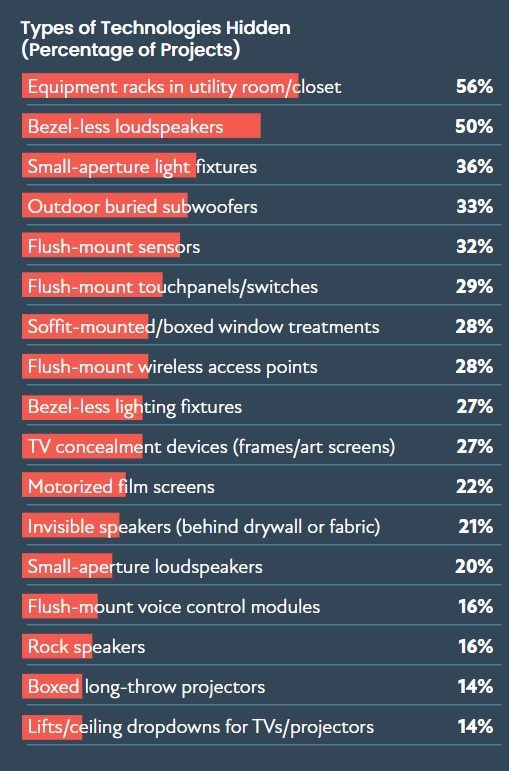 Ornate floorstanding speakers like the KEF Blade One and Blade Two are obvious examples in which the beautiful design of the products themselves makes them almost pieces of art on display that enhance the room's décor.
In those cases where the technology cannot be discreet, 96% of integrators say a product's industrial design is important.
That data is supported by products like Nest thermostats, for example, that minimize the "wall acne" denoted by traditional HVAC control interfaces.
Likewise, solutions such as iPort, Trufig, Wall-Smart, Brilliant and Orro enable dealers to minimize the obtrusiveness of in-wall interfaces.
Nearly every lighting control manufacturer has enhanced the design of its switches over the past decade, whether that be the migration to low-profile toggles, screw-less plates or various color options.
Indeed, dealers report that industrial design is most vital for exposed wall-mounted TVs, touchpanels/interfaces, audio components, smart speakers, fixed film screens, and floorstanding speakers.
These are often technologies that are unable to be disguised in a home and thus the overall aesthetic of the product is vital to its acceptance by clients.
One other "beauty" of clients' desires for discreet technology is that integrators can (and should) charge customers for their time spent in designing hidden technology solutions.
However, only 30% of CE pros report they charge customers for the time spent on system design specifically related to hiding the technology. In all, 58% of dealers say they "sometimes" charge for design time, while 12% say they "often" charge for it.
Even in situations in which the industrial design solution of the product
post
ABOUT THE AUTHOR
Jason Griffing is the Partner Development Manager at OneVision Resources.
View Jason Griffing's complete profile