9.10.21 – SIW

For decades, video management systems (VMS) were defined as the core component of a security camera system. They were the place where the security system was configured, set up and verified. They collected video from cameras, recorded and archived that video to a storage device, and provided a mechanism for viewing live-streaming images and accessing recorded video. The VMS was where you managed firmware and software updates, programmed alarm triggers and more.
All that is still true; however, today, the phrase Video Management System is a bit of a misnomer. The modern "VMS" incorporates a broader set of technologies, and with these, a broader set of use-cases. In addition to surveillance cameras and network video recorders, there are access control systems and intercoms, telephony systems, radar, loudspeakers, intelligent audio systems, and myriad other devices on the network all operating under the "VMS" umbrella. There are also video and audio analytics to help users make quick sense of the information collected from all these IoT devices.
While historically rooted in physical security, the "VMS" has also become a useful tool for departments like operations, marketing, human resources, and even facilities maintenance – providing them with valuable insights to help improve everything from workflow efficiencies to the bottom line. In essence, the "VMS" has slowly evolved from a simple video camera management system to a multi-technology management platform designed to gather actionable intelligence for the entire enterprise.
How the Evolution Unfolded
Back in the days when security systems were analog, they were owned by the organization's security team; however, as camera technology slowly migrated from analog to network video, IT departments claimed a stake in the conversation because the cameras would be running on the same network as other company applications.
Once IT was involved, it was critical that security systems align with IT policies around device management and cybersecurity. This led to the creation of security system tools to help manage devices and implement and maintain consistent cybersecurity policies.
By that point, the old analog viewing system was supplanted by a sophisticated network platform that could track product warranties and licenses as well as firmware/software releases and upgrades. The new more robust "VMS" was now overseeing product lifecycle management as well as monitoring cyber threats, forever cementing the partnership between security teams and their IT departments.
Automating Threat Response
Even with its expanded capabilities, the new "VMS" still watches for bad actors and warns security of potential threats they need to address. Security officers still view video streams to determine the appropriate response to events when they happen – the difference is that security now has more technology at its fingertips with which to gain real-time situational awareness that can be passed onto first responders.
But what happens if there is no 24/7 security team in place? Whether the threat is a trespasser, a car blocking an entrance lane, or other event that requires immediate attention, most organizations have a formal protocol for reacting to a situation. The beauty of an integrated situational awareness platform is that users can program the system to proactively automate many of these steps.
For example, if radar detects a trespasser, it can direct a PTZ camera to track the individual's movement. At the same time, it can trigger a light, a siren, or a pre-recorded message from the nearest loudspeaker warning the intruder that police are on the way. It could also be sending a video alert to the security office.
If someone opens an emergency door, or blocks a door from closing, the door sensor could automatically trigger an alarm, broadcast a warning message from the public address system, and simultaneously send security a video of the person causing the alert.
With greater situational awareness and a rules-based engine for automatically reacting to common scenarios organizations can respond more quickly to events, de-escalate confrontations, and mitigate risks to people and property.
A Marketing and Operations Dashboard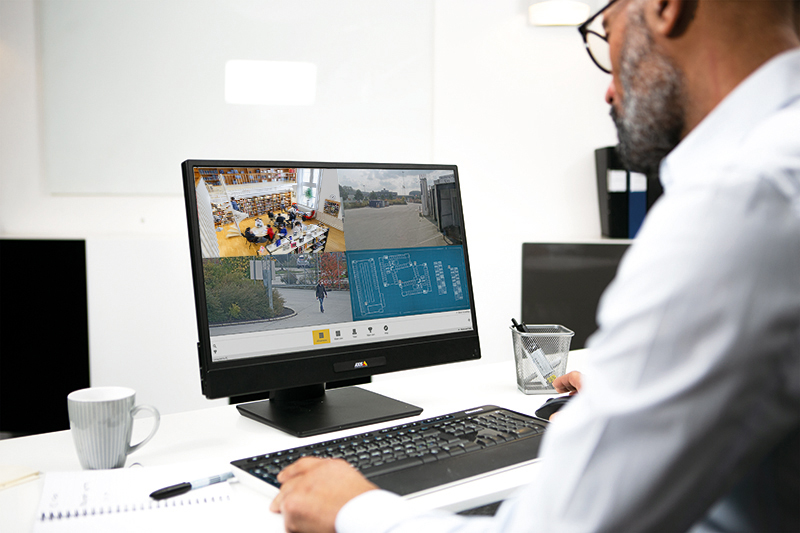 A retail store, on the other hand, has multiple stakeholders for the data that the "VMS" and video analytics can provide. Security still monitors the cameras to spot suspicious loitering, or they might receive an alarm from a shelf sensor that someone is sweeping up merchandise. Store management, however, may interpret the loitering analytics alert differently. To them it might indicate that a customer is looking for assistance. When the shelf sensor alert triggers it might be programmed to apprise stock clerks that inventory needs replenishing.
With the ability to tap into the data gathered by the "VMS" in real-time, a store can quickly pivot to address changing conditions. For example, they can use analytics to monitor the checkout queue and page a cashier to open a new register when the line gets too long; or, they can use analytics as a marketing tool, detecting when a customer lingers in a certain aisle or at a particular endcap which would automatically trigger an electronic display to begin running a targeted advertising message.
Dashboard reports can be viewed through the "VMS" that help managers spot trends that could impact their decisions about current and future store operations. For example, they might use a people counting report, which shows the volume of foot traffic throughout the day, to adjust staffing levels. They might use a heat mapping report, which shows how customers move through the store, to update floor layouts and determine the best location for high-ticket item displays. They could even use historical data reports to set goals for upcoming sales promotions.
The point is, the technology operating under the "VMS" umbrella can be used multiple ways at the same time. Security employs the system to reduce theft and keep the store safe for staff and customers; store managers use the system to respond to opportunities in real-time as well as identify areas they might fine-tune going forward to increase their bottom line.
Creating a Multi-Technology Platform
What is most evident from this "VMS" evolution is that it opens endless opportunities for security integrators and installers to expand their business while adding value for their customers. Now, in addition to traditional security camera systems, they can offer new and existing customers an wide variety of customized use-case solutions – ones that can integrate all their security technology needs into a single cohesive solution.
With the new "VMS," security professionals have the platform they need to build a multi-purpose solution from the ground up or incorporate and expand on a customer's existing security system, assemble a best-of-breed solution, or opt for solutions from a single vendor end-to-end. Success in these endeavors will be built on trusted relationships – with customers as well as technology partners. The latter are especially important to ensure that solution components continue to work seamlessly together to meet the customer's needs even as they're updated to enhance performance and bring in other third-party integrations.
Today's "VMS" is no longer bound by its video-centric origins. It has become a multi-dimensional platform that affords security integrators and installers a wider path to profitability – both through upselling non-camera products and services and offering customers more ways to achieve their business goals and realize a greater return on their technology investment.
This begs the question: What are we supposed to call a VMS now? Unfortunately, there is no simple answer. It all depends on who is using the system, what they hope to find out, whether they want to use the information to prevent something or capitalize on it.
Alex Walthers (Alex.Walthers@axis.com) is the Business Development Manager for Technology Partners at Axis Communications. Request more info about the company at www.securityinfowatch.com/10212966.