Through the day, the fire chief made sure his incident commander had what he needed and worked with top county, state and Pentagon officials.
'My job was to try as best I could to explain what was going on and put it in perspective'
We were supposed to discuss a shortage of paramedic ambulances, but the fire chief sitting across from me that morning about 25 years ago had other things on his mind.
The meeting, at a diner, was set up by the communications director in Arlington County, Virginia. She thought the chief should get better acquainted with the television reporter who broke the recent story about the EMS problems in the area.
If Ed Plaugher provided insight into ambulance staffing that morning, I don't remember it. What I clearly recall are the two topics Chief Plaugher talked about over bacon and eggs – smoke alarms and terrorism.
As Plaugher drew a diagram on a napkin of what's wrong with current smoke alarms and how he would fix them, I was starting to believe this was a diversion to keep me from asking about EMS issues. But there was something quite sincere in his voice and manner.
The chief told me it's not just poorly designed smoke alarms that keep him awake, it's the threat of international terrorism here in Arlington, the smallest county in the U.S. Plaugher talked a lot about the 1995 Sarin gas attack in Tokyo's subway. Arlington had a pair of subway lines that, not coincidentally, ran through the county's most densely populated communities. We also talked about the 1993 World Trade Center bombing, a story I had covered.
My hopes for new insight into the ambulance shortage dashed, I walked away from the diner thinking the fire chief might be a little out of touch with the realities facing him. It took the events of September 11, 2001, for me to realize that the person who was out of touch was me.
'SOMETHING'S GOING TO HAPPEN HERE'
I'm sure it was the breakfast talk Ed Plaugher gave me that led me to tell my news director on the phone, "Don't send everyone to New York. Something's going to happen here." Just two minutes earlier, we had both watched the second plane crash into the World Trade Center's South Tower. It seemed too organized for the Washington area not to be a target.
As I left my Northern Virginia home that morning, with Chief Plaugher's terrorism lesson from years ago on my mind, my focus was not on Arlington County. Instead, I headed for the White House.
As I reached the Pennsylvania Avenue barricade – the same one set up in reaction to the Oklahoma City bombing – the scanner came alive, "They've hit the Pentagon." A quick u-turn provided the visuals to go with the radio transmission. Thick, black smoke rose above the Potomac River.
Five minutes later, I was standing on the shoulder of Washington Boulevard, directly across from the Pentagon helipad. This is where American Airlines Flight 77 slammed into the building. The first images from my home video camera show traffic still moving with the fire burning in the background.
The scores of people standing near me had all fled the Pentagon after the impact. The various eyewitnesses couldn't agree what size plane was involved. Another reporter arrived and told me to look down. We were standing amid small metal fragments that had apparently come from the jet.
In front of me, as I broadcast live from the scene, the fire department went to work. Not just any fire department, but one – thanks to the vision of Chief Ed Plaugher – that was well prepared for a terrorist attack in their community. In fact, Arlington County firefighters had trained on various scenarios involving an assault on the Pentagon. But even Ed Plaugher's vision didn't foresee a Boeing 757 crashing through three rings of the building with a terrorist at the controls.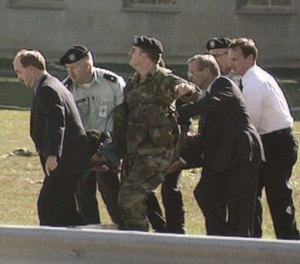 The west lawn of the Pentagon was littered with debris and victims. Arlington County firefighters quickly brought ambulances onto Washington Boulevard to get the seriously injured to area hospitals.
Two firefighters from adjacent Fort Myer, who were almost hit by the plane, grabbed containers of foam out of the tiny helipad firehouse. Their fire engine was too damaged to be used.
A medevac helicopter landed on the roadway to my right and flew a victim to the burn unit in D.C.
Helping carry one patient to an ambulance just a few feet in front of me was Secretary of Defense Donald Rumsfeld, but I was too busy to notice him. It was only discovered a year later that Rumsfeld was on our video. That image is now in the Pentagon's Memorial photo collection as well as a book by the Historical Office of the Department of Defense.
COLLABORATION IN ACTION
Northern Virginia fire departments have a strong automatic-aid system that was put in place by forward-thinking fire chiefs more than 25 years earlier. The departments have long worked together seamlessly, and it showed on September 11.
One of the first units on the scene was a crash foam unit from nearby Reagan National Airport. It initially knocked down a lot of exterior fire only to reveal a lot more fire deep-seated into multiple rings of the Pentagon.
Ambulances and fire apparatus from Alexandria and Fairfax arrived quickly, and as the day went on, there was a lot more mutual aid from D.C., Maryland and other Virginia counties. Calmly leading the initial response and soon the unified command was Arlington County Deputy Fire Chief Jim Schwartz.
As we would learn later, when Chief Plaugher got to the scene, he made the decision not to take command from Chief Schwartz. It came from both his trust of Schwartz's abilities and Plaugher's belief that he needed to take a broader view of the operation. Initially, that's literally what Plaugher did, commandeering a helicopter to look down at the Pentagon to see where the plane had gone and where the fire was moving. Through the day, the fire chief made sure his incident commander had what he needed and worked with top county, state and Pentagon officials.
STAGGERING NUMBERS TO REPORT
My job was to try as best I could to explain what was going on and put it in perspective. A number of people in the fire service helped me do just that.
My late friend George Burke, then with the IAFF, walked through the makeshift press area at a nearby military service station. Through Burke and his boss, Harold Schaitberger, I learned that they were expecting the number of firefighters killed in New York to be in the hundreds. It was the first time that day that an official had gone on the record quantifying the loss. It was chilling news.
That evening, Capt. Scott Graham of Montgomery County, Maryland's Urban Search & Rescue Team was the first to tell us about the work we couldn't see going on inside the Pentagon. Graham said rather eloquently: "We have to look at it as a rescue effort for us. We have to look at it as a very unstable building. And our job, pretty much, is to take the name of the Pentagon off the outside of it and go in and rescue the people that are in there."
One of my last interviews of the night was with Chief Plaugher. We knew at that point that the death toll in New York was likely in the thousands. What we didn't have was an understanding of how many perished at the Pentagon. Chief Plaugher told me Pentagon officials gave him a working range of 100-800 who were killed. His own belief was that in the end, it would be in the low hundreds. And Plaugher was correct. The final figure was 189 people killed inside the Pentagon and on American Airlines Flight 77.
Ed Plaugher has always regretted giving that answer to my question. That's because some national news agencies took the interview out of context and reported, "Fire chief estimates Pentagon death toll at 800."
With smoke still pouring from this iconic symbol of our nation's military power and scores of bodies still inside, I talked with Chief Plaugher about his concern of many years about this very scenario – international terrorists mounting an attack in Arlington County at the Pentagon. The man who helped prepare his fire department and the region for such a day and long preached his concerns to anyone who would listen, including a reporter more interested in another story, took no credit.
"To be honest with you, we always were afraid of the Pentagon as being a target, but never in our wildest dreams to this extent. I am still in disbelief."
About the author
Dave Statter owns STATter911 Communications, LLC, in Falls Church, Virginia. He consults with public safety-related agencies on communications and media issues, produces videos and runs the fire service website STATter911.com. Statter spent four decades in broadcasting, including 25-years as a reporter with WUSA-TV in Washington, D.C.