Texas deputy dies while responding to stabbing
The deputy died Saturday morning after collapsing at the scene of a stabbing
7.7.19 – Police News- HARRIS COUNTY, Texas
---
By Jasper Scherer * Houston Chronicle
HARRIS COUNTY, Texas — A 39-year-old Harris County Sheriff's deputy died Saturday morning after collapsing at the scene of a stabbing in northwest Harris County, the sheriff's office announced.
Omar Diaz died at 8:22 a.m. after EMS officials took him to Northwest Hospital in Cypress and doctors were unable to revive him, Sheriff Ed Gonzalez said.
"Deputy Diaz served his community with honor and distinction," Gonzalez said in a statement. "The entire Harris County Sheriff's Office family is grieved by the tragic loss of our brother."
The incident occurred on the 7500 block of Stone Pine Lane, where sheriff's deputies responded to reports that a woman was stabbed multiple times in a home near Cypress Ridge High School.
Diaz collapsed abruptly while laying out crime scene tape before regaining consciousness, Gonzalez said. He was coherent and able to speak with other deputies there, but fell out of consciousness again on the way to the hospital, the sheriff said.
It was not immediately clear what caused Diaz's death. Gonzalez said there could have been narcotics at the home, though a hazardous materials crew cleared the scene, and nobody else fell ill, according to the sheriff.
The Harris County Institute of Forensic Sciences will determine the cause of Diaz's death, the sheriff's office said in a news release.
"We're very shaken by this. It caught us all by surprise," Gonzalez told reporters, adding that Diaz was well liked by his colleagues, who viewed him as a stellar deputy.
Police were set to escort Diaz's body from the hospital to the medical examiner's office, Gonzalez said late Saturday morning.
Diaz leaves behind a wife and 7-year-old daughter. He began his career at the sheriff's office in 2009 as a detention officer, and was most recently assigned to patrol in the Crossroads Park subdivision after graduating from the sheriff's office's basic peace officer's course last year.
In the aftermath of the news, officials from other departments, including Fire Chief Sam Peña, weighed in to offer condolences and the support of their own staff.
Gonzalez, as well as Houston Police Officers' Union President Joe Gamaldi, asked people on social media to keep Diaz and his family in their prayers.
"To all my Harris County brothers and sisters we are here for whatever you need," Gamaldi tweeted.
Diaz is the eighth Texas law enforcement officer to die on duty this year, according to data compiled by the National Law Enforcement Officers Memorial Fund.
He is also the second Texas sheriff's deputy to die within the last week: Kendall County Sheriff's deputy Carlos Ramirez was struck and killed by a pickup truck while conducting a traffic stop Tuesday morning.
Last year, 11 Texas officers died while on duty, tied with Florida, California and New York for the most in the U.S., according to the officers memorial fund.
Authorities have identified Paul Reyes as a person of interest in the aggravated assault with a deadly weapon that Diaz was responding to. The woman survived the incident.
2nd Kendall County sheriff's deputy dies in less than week
Sgt. Matt Johnson dies of colon cancer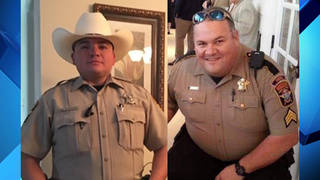 KENDALL COUNTY, Texas – The Kendall County Sheriff's Office is dealing with the second death of a deputy in less than a week, this time from cancer.
Sgt. Matt Johnson, 44, an investigator with the KCSO Criminal Investigations Division died Friday evening following a battle with Stage 4 colon cancer, said Sheriff Al Auxier. His death comes three days after Deputy Carlos Ramirez was struck and killed by a pickup truck while conducting a traffic stop along I-10.
"I think everybody is doing as well as can be," Auxier said Saturday. "I will tell you that without any question, there will need to be a time of healing. It's a pretty good hit to take."
Johnson had been diagnosed with cancer about a year ago, Auxier said, and was at home under hospice care when he died.
Auxier said Ramirez's death has been his first experience with an officer dying in the line of duty, but he said fellow law enforcement agencies, including the San Antonio Police Department the Bexar County Sheriff's Office and the Texas Department of Public Safety, have stepped up to show their support.
"I've got phone calls from sheriffs all over the state that, you know, are willing to help and give a hand in any way that they possibly can. So the support has been tremendous," Auxier said.
Ramirez's funeral services will be held Thursday in San Antonio. He will be interred July 16 in Fort Bliss National Cemetery in El Paso.