5.13.21 – SIW – Randall Renfroe
In addition to reducing false dispatches, VAV can create several RMR opportunities for integrators
This article originally appeared in the May 2021 issue of Security Business magazine. When sharing, don't forget to mention Security Business magazine on LinkedIn and @SecBusinessMag on Twitter.
Video alarm verification is not new to our industry and has multiple variants and manufacturer solutions in the field that are used today; however, it appears it has not been promoted or pushed as hard as it could be. Over the past few years, developments made with its features and benefits have made it much easier to incorporate with any sized security project – giving integrators a valuable avenue to satisfied customers as well as RMR opportunities.
In most cases, a monitoring station's initial response to an alarm being received is to dispatch law enforcement or security officers to a scene – as operators are usually unable to visually see or hear what is happening at the end of that alarm event, making it extremely difficult to assess the situation themselves. Video alarm verification (VAV) gives the operators situational awareness in moments – providing valuable support to the end-user and visual confirmation of an event to emergency responders if required.
If a situation is escalating, trained operators can provide crucial intervention steps and deploy a selection of de-escalation maneuvers via audible warnings through loudspeakers, additional lighting, closing and/or opening doors and much more. Law enforcement and/or security officers can be dispatched during this critical time, while operators to provide live updates, descriptions and key situational awareness. Importantly, this solution also reduces false alarm dispatches by confirming "actual" priority alarms. Video alarm verification reduces action time in the monitoring stations and deployed response times when an alarm event is received.
Non-verified alarms continue to put a considerable strain on resources for law enforcement agencies. With our economy shifting towards reduced police resources, restricted budgeting and staffing shortages, law enforcement is going to depend on high-priority verified alarms filtered from traditional alarms to keep up.
Why Integrators Should Offer VAV
The solutions available with local and cloud-based video alarm verification technology not only addresses the security industry's large
Video alarm verification technology not only addresses the security industry's large challenge of false alarm reduction, but also provides a seamless path to additional RMR for integrators. challenge of false alarm reduction, but also provides a seamless path to an additional RMR model and maintenance revenue stream, upgrade and integration potential, and by default opens a consistent customer engagement platform, keeping them connected to their integrators.
VAV is particularly necessary in areas of the country that require "verified response" – where law enforcement alarm response requires an actual eyewitness statement and/or video cameras have been used to verify that an incident has indeed taken place. With a break-in time window ranging between two and five minutes, speed is vital.
Just as important, VAV service creates more satisfied customers. A customer without VAV is likely to be upset when police respond 45 minutes or more after an intrusion alarm is tripped at their business. With the burglars – and property – most likely long gone once responders arrive, the customer's only option is the review video footage in the hope of finding a clue to the identities of the perpetrators. You will likely hear the disappointed tone in their voice and a light accusation that the security company could have done more to protect the business.
Instead of feeling helpless, a customer with VAV will more likely say something like: "The attempted break-in last night at our business was foiled before it really began, and we watched the clips last night and again this morning of the entire event. The person on the video was caught and arrested half a mile from the location, because he was seen wearing a dark-colored hoodie and grey sweatpants by monitoring center operators, who provided that info to the responding officers. The police literally caught them loading the stolen items into their truck."
Not only will this satisfied customer stay with your integration business for much longer, but an incident like this also provides an opportunity to have a conversation with them about adding a supplemental hardware or service, such as an extra camera. It also gives integrators a vital opportunity to ask for a referral from a very satisfied customer – how could they say no?
Vertical Market Selling
Thanks to industry education and false alarm reduction conversations happening in cities across the country, end-users are becoming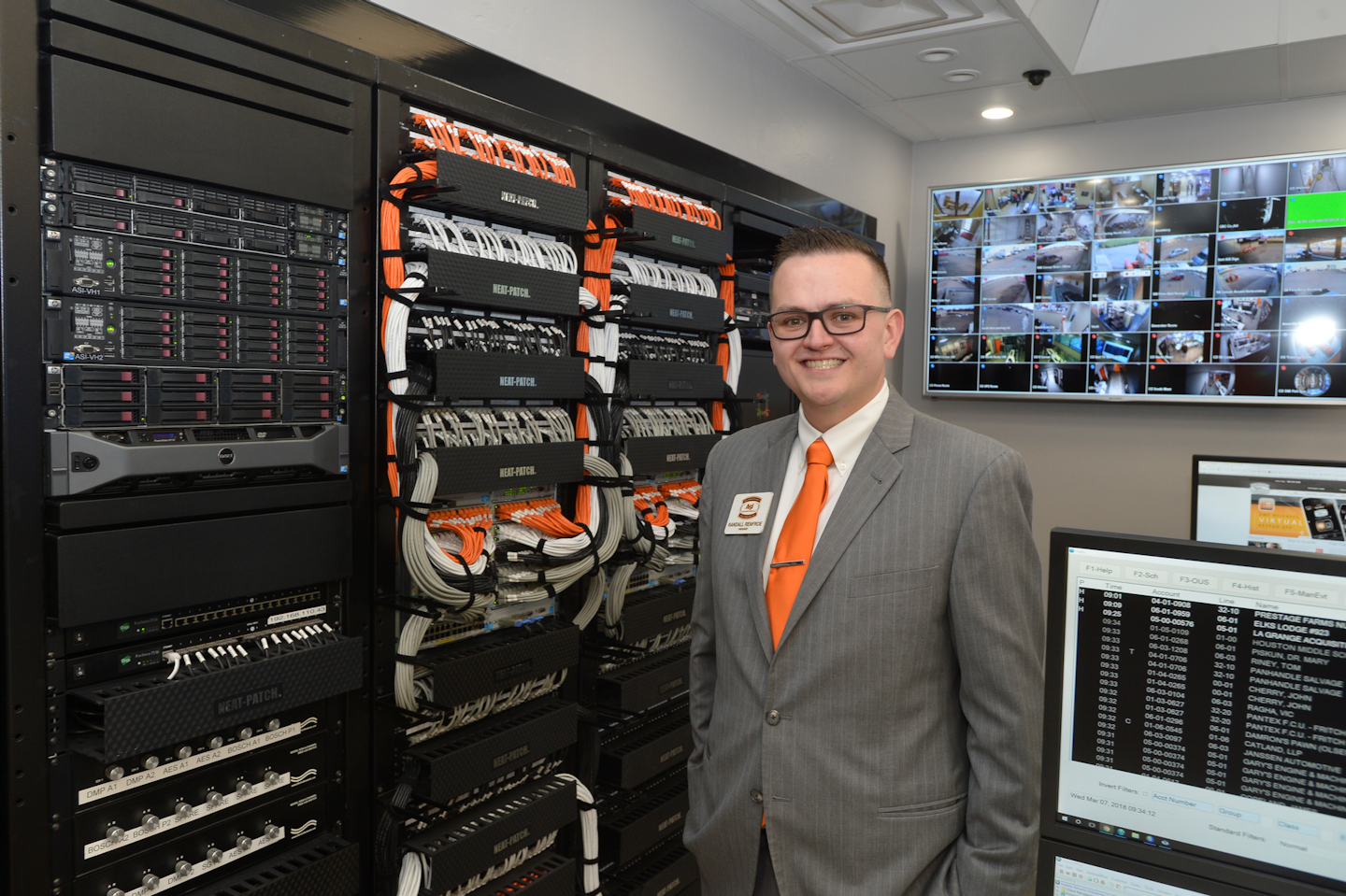 At Allstate Security Industries Inc., nearly all inquiries that may have originated with an access control or intruder detection system – even fire safety projects – add monitored video solutions to the application, according to CEO/President Randall Renfroe. much more aware that they need instant alarm verification to secure their businesses.
Many security integrators targeting these verticals – often retail and adjacent markets – become so caught up with selling and installing hardware that they forget to ask about and educate their clients on critical additional service solutions, such as VAV.
At Allstate Security Industries, Inc., nearly all inquiries that may have originated with an access control or intruder detection system – even fire safety projects – add monitored video solutions to the application. To accomplish this, sales representatives must differentiate a customer's needs based on the business type. Here is an example:
Car Dealership: Salespeople should explain how a video alarm schedule works, and how it will specifically combat catalytic converter thefts (a rapidly growing threat to this vertical), as well as vandalism and general theft. While alarms might only be actioned between 8 p.m. and 6 a.m. on weekdays with alternate weekend schedules, let them know that if somebody wanders into the car lot this can trigger a live or recorded voice message. If it is during normal hours, the message might provide the website and phone number and special of the week; however, if a monitoring station operator sees the person as a threat or potential intruder, an audible warning can be deployed describing the individual and that they must leave the property.
Determine whether the car dealership prefers a direct solution or an analytics-based solution. A VAV direct solution means onside video is activated when an intruder alarm is tripped – sinding both signals to the central monitoring station. A Video Alarm Monitoring (VAM) solution, on the other hand, routes alarm events through camera analytics and a Video Management System for Video Content Analysis (VCA). A VAM solution can be customized with personalized triggers that can be programmed to suit a unique industry or business type.
Integrators and salespeople can take a successful car dealership deployment and adjust it to other markets and industries where the security goals are similar – just adapt the talking points to identify directly with a particular customer.
Salespeople should also be intimately cognizant of the many key advantages and benefits of a VAV solution for customers, such as: faster response times; meeting state and local verified response regulations; reduced insurance costs and claims; improved apprehension rates; reduced false alarms; decreased property losses; and of course, improved security.
VAV Leads to Added Services
At ASI, we offer several plug-in optional extras that are used on VAV accounts that can provide added satisfaction and peace of mind to customers, along with RMR for integrators:
Virtual guard tours:Our platforms offer the ability for video operators to access the camera streams and view each camera or group of cameras for an allotted amount of time. Our monitoring station can then take pictures of each camera at the time of the tour and store them in our system. Our monitoring station can also have action items based on the activity during the remote guard tours.
Our advanced AI software can also send out notifications based on pre-configured criteria and parameters to alert the customer, the authorities, or the manager on-site to any and all incidents that are occurring.
WatchMe:ASI WatchMe enables someone at a customer's property to identify suspicious activity without pushing the primary panic button. The employees can request the attention of an ASI remote surveillance operator – either by a dedicated WatchMe button or by simply calling a dedicated phone line – in real-time to maintain visual surveillance for short time period.
The operator maintains immediate visual connection of the property, and should the situation remain normal and the potential threat does not materialize, normal operations continue without further disturbance. However, if the situation escalates, operators can quickly dispatch the required emergency services while relaying real-time information to responding teams.
Video escorts:Instead of using security staff, a company can give employees a personal video escort. This is a smart way to prevent incidents and give employees peace of mind in any potentially risky situation. ASI can offer this protection to lone workers or those in high-risk/high-security locations. The remote escort gives secure coverage when entering or exiting the property. When an operator gets the request, they scan the premises around an entrance to make sure there is no suspicious activity before giving the all-clear.
Audio talk-down:ASI operators can react to security incidents with direct audio – such as directly informing a detected perpetrator that they are being monitored live. This service can also be automated using video management systems, analytics, and audio solutions.
Randall Renfroe is CEO/President of Allstate Security Industries, Inc. (www.allstatesecurity.com), a security integration firm headquartered in Amarillo, Texas.