9.16.19 – CEPro –Steve Karantzoulidis
Data from Kwikset suggests that while potential smart home tech consumers are spoiled for choice, they have several nagging concerns about the category.
We now live in a world where nearly everything is "smart." Consumers have no shortage of choice when it comes to purchasing smart home products. However, there are a few hiccups when it comes to choosing the right one.

Kwikset has released its latest audience segmentation study that looks at consumer smart home purchases. The study looks at different scenarios and breaks down the results by different types of buyers.
The first piece of data Kwikset has released from the study looks at barriers to purchasing smart products by the type of lock already purchased (smart lock vs. electronic lock).
The largest barrier was found to be smart products are too expensive. That was followed by cybersecurity and privacy concerns.
Though the study mentions, locks, specifically, it would probably be fair to say these sentiments apply to most types of products. Are you doing anything to alleviate these fears for your customers?
Audience Segmentation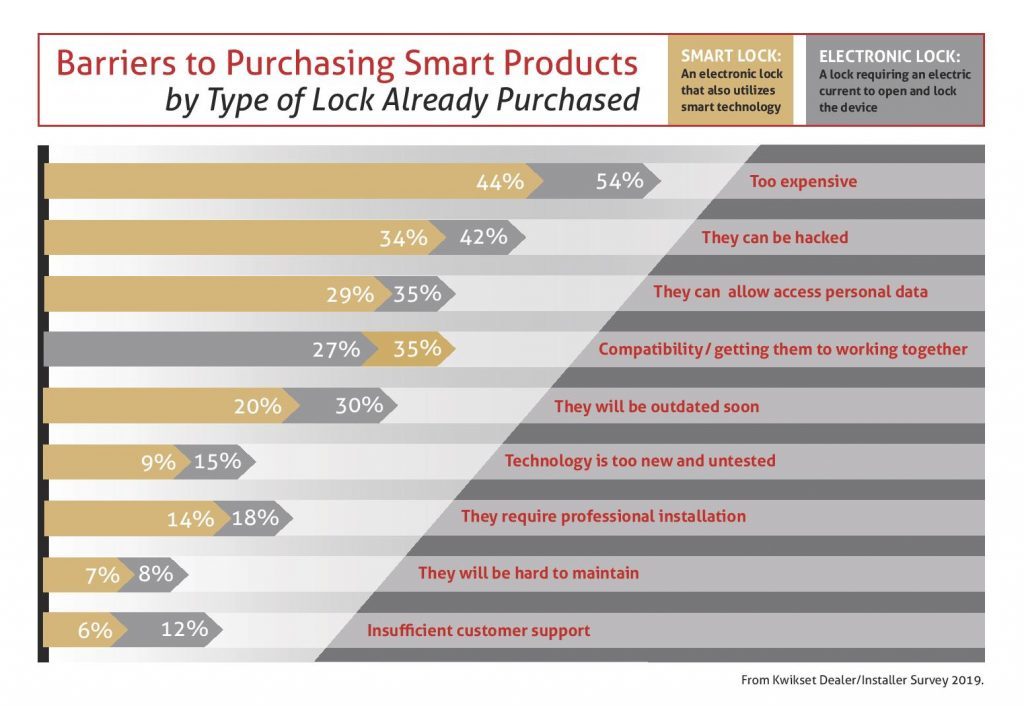 The survey was taken by 1098 people. These respondents were then broken down into the following groups (descriptions by Kwikset):
Tech Enthusiasts – 17% of respondents
The "Tech Enthusiast" is on the go. Living in a fast-paced world with his family, he owns several properties, which is why he's looking for durable, tech-savvy locks to make life more connected.
Before buying a lock, the Tech Enthusiast spends a  lot of time researching to make sure he's getting a product that's long-lasting and durable. It's also really important that locks bring convenience to his life, so they should be easy to install, too.
Discerning Home Curators – 19% of respondents
As a full-time employee and homeowner, the "Discerning Home Curator" doesn't have time to worry about his door hardware every day. It needs to looks beautiful, be secure and bring convenience to his life. That's why the discerning Home Curator invests time and energy into researching before he purchases anything. He relies heavily on product reviews and websites, gathering as much information as possible before making a selection that will impact his home.
Traditional Safety Seekers – 23% of respondents
For the "Traditional Safety Seeker," protecting her home (and everything she loves inside) is a top priority. She's wary of smart home technology because unlike a lock's design or durability, she can't see how it help keep her home secure.
That's why the Traditional Safety Seeker is more likely to buy locks offline at a home improvement store. Though she's not the sole decision-maker, she has a say, and comparing products in-aisle helps influence buying decisions.
Everyday Fixers – 23% of respondents
As a suburban homeowner, the "Everyday Fixer" takes care of his home, his way. He looks for durable, functional locks, which is why one-key convenience matters to him. The Everyday Fixer takes pride in his home and the way it looks, so he also wants locks with style.
The Everyday Fixer buys a lock when he needs one and purchases in-store because he wants to see and feel the locks to compare in-aisle. For him, buying door hardware is about look, feel, and trusting his instincts.
No-Fuss Buyers – 19% of respondents
When it comes to home security, the "No-Fuss Buyer" purchases locks out of need and trusts more traditional designs and door hardware. Even though safety is a big concern, the security grade isn't a main motivator; it's more about feeling safe.
Because of the limited amount of time spent researching, the No-Fuss Buyer likes to purchase in-store and get product information in real-time from sales associates. For the No-Fuss Buyer, out of sight means out of mind: locks that are available and on shelves are the second biggest purchase driver to durability.
---
This article originally appeared on our sister publication Security Sales & Integration's website.