Committee votes 19-6 to OK legislators' proposal; Doesn't act on Hogan's proposal
12.7.21 – ANNAPOLIS, Md. (WBAL & AP)
Partisan trenches are dug deep as state lawmakers arrived Monday for a special session called to adopt newly drawn congressional district maps and to override many of Gov. Larry Hogan's vetoes of measures from the last session.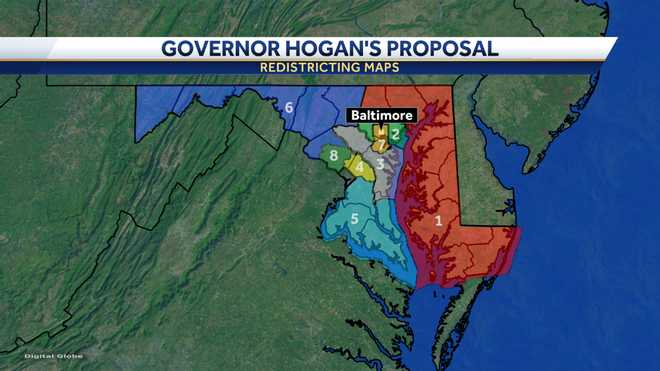 WBALMaryland Citizens Redistricting Commission mapAdvertisement
Last month, the Republican governor's own citizen committee finalized maps that Hogan said will give Republicans a stronger edge and "have a chance to restore fairness to our political system."
The Maryland Redistricting Advisory Committee, led by Democratic House Speaker Adrienne Jones and Senate President Bill Ferguson, heavily favors Democrats with all eight districts in favor of the party. Democrats hold a supermajority in the General Assembly and control the redistricting process in Maryland.
"It is a map that is more compact and contains boundaries that honor communities' identification," Ferguson said.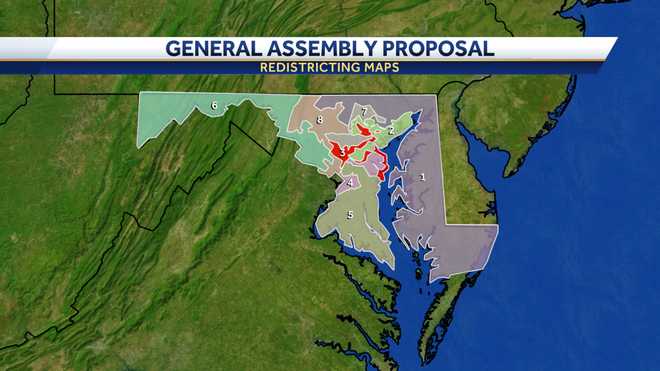 WBALMaryland Redistricting Advisory Committee map
Republicans are concerned the Democrat-preferred map holds seven congressional seats safely in the hands of Democrats. The Eastern Shore district currently held by Republican Andy Harris could become more competitive.
"They are gerrymandered. They are designed pretty much exclusively for partisan purposes to elect a particular Congress person as opposed to keeping communities of interest together," said Allegany County Delegate Jason Buckel, R-District 1B. "When you have districts that stretch from almost the District of Columbia line to the Susquehanna River, that doesn't make a lot of sense."
"Basically what we have is a General Assembly is down here to gerrymander the state against the wishes of the vast majority of voters and also not going to take action on crime –and in fact make things worse," said Carroll County Sen. Justin Ready, R-District 5. "I don't understand the disconnect."
Legislators held a joint public hearing Monday afternoon on the two maps, and 70 people signed up to testify.
"Cherry pick its voters and maintain the status quo of eight male congressmen. It is outrageously partisan," said Ella Ennis, who opposes legislative-drawn map.
The Rules and Executive Nominations Committee voted 19-6 Monday to send the legislators' proposal to the House, which is expected to take up the map Tuesday. The committee did not act on Hogan's proposal.
Redistricting takes place once a decade after the release of new census data.
Hogan is threatening to veto any map he deems unfair. Lawmakers plan on sending the governor a map by Thursday or Friday.
HOGAN STATEMENT
Hogan submitted the following as testimony for the General Assembly's joint hearing Monday afternoon:
"Dear Members of the Senate Reapportionment and Redistricting Committee and the House Rules and Executive Nominations Committee:
"Free and fair elections are the very foundation of American democracy and the most basic promise that those in power can pledge to citizens. Here in Maryland, nonpartisan redistricting reform has been overdue for decades and has saddled our state with the unfortunate distinction of being home to the most gerrymandered districts in the nation.
"Since taking office, my administration has been actively working to eliminate gerrymandering and restore fairness in our electoral system. During my first year as governor, we established the nonpartisan Maryland Redistricting Reform Commission, whose members traveled the state to hear what Marylanders wanted. The Commission recommended that the state establish an independent commission to draw congressional and legislative districts, eliminating the influence of elected officials and political parties. As a result of those recommendations, I introduced redistricting reform legislation in an effort to remove partisan politics from the redistricting process, which the General Assembly ultimately failed to pass.
"Despite the lack of action by the Maryland General Assembly, in January 2021, I took historic action and formed the first ever Maryland Citizens Redistricting Commission, which consisted of an equal mix of Democrats, Republicans, and unaffiliated members. This commission allowed citizens, instead of politicians, to draw congressional and legislative district lines in a fair and impartial manner. The commission created new district boundaries, reflected in Senate Bill 2 and House Bill 2, that are free from political influence and offer the opportunity for fair elections in Maryland.
"The commission held 36 public meetings, with more than 4,000 attendees, including citizens as well as organizational leaders and elected officials. The commission also provided an online mapping applications portal for the public to prepare and submit maps, which resulted in a total of 86 map considerations from the public. The commission was tasked with creating maps that complied with the U.S. Constitution and Voting Rights Act of 1965, respected natural boundaries and geographic integrity, and did not take into account citizens' party affiliation.
"Unfortunately, the General Assembly created the Legislative Redistricting Advisory Commission, which consisted of elected officials who failed to operate in a transparent manner and created maps, resulting in House Bill 1 and Senate Bill 1. These maps were given an 'F' rating for fairness by the Princeton Gerrymandering Project, unlike the Maryland Citizens Redistricting Commission's maps, which received an 'A' rating for fairness.
"I sincerely ask you to pass Senate Bill 2 and House Bill 2, which will create free and fair elections that have been long overdue in Maryland and that voters deserve."
Lawmakers to also address veto overrides, crime bills, treasurer
Also high on the priority list are a number of veto overrides. As many as 20 bills vetoed by the governor may be taken up. Some include investments in public transportation and the state's involvement in federal immigration issues.
The Senate voted 31-16 Monday morning to override Hogan's veto of a bill to repeal a requirement that parole for an inmate serving a life sentence must be approved by the governor. The long-fought measure puts the decision in the control of a parole commission.
"It simply puts us in line with 47 other states that allow their parole commissions to be the final arbiters in determining whether a person's liberty should be restored," said Baltimore City Sen. Jill Carter, D-District 41.
"Just understand what we are passing: If you are currently sitting in prison on a first-degree murder (charge), then in 15 years is (in) 12 1/2 years, you will become eligible," said Sen. Michael Hough, R-District 4, whose district encompasses portions of Frederick and Carroll counties.
Meanwhile, one of Hogan's high-profile vetoes will be sustained. A bill that would decriminalize the possession of drug paraphernalia for personal use passed the Senate earlier this year 28-19, one vote short of the 29 votes needed for an override.
David Schuhlein, a spokesperson for Ferguson, said the veto override on that measure won't be brought up in the special session.
"It's an incredibly complicated issue and we are committed to addressing it in regular session," Schuhlein said.
Lawmakers are expected to take up Hogan's vetoes of two bills supported by immigration advocates, including a measure that would prohibit local jails from entering into agreements with federal authorities on immigration-related detentions.
The bill bans local jails from being paid by the federal government to detain people on immigration matters in Maryland. The other measure Hogan vetoed would require state employees to deny inspection of records or use of facial recognition technology by any federal agency seeking to enforce immigration law unless provided with a valid warrant.
Emergency legislation to address Baltimore crime
Hogan is also calling on the General Assembly to consider some proposed emergency bills that would address crime in Baltimore City.
The governor's office issued a statement on the introduction of the emergency crime legislation, saying: "People are being shot nearly every single day in Baltimore City, and we have an obligation to do something about it right now.
"Today, our administration has introduced emergency legislation to require tougher sentencing for violent offenders, specifically those who continue to commit violent felonies with guns, and to bring greater transparency to the sentences handed down by judges for all violent crimes.
"Passing these desperately-needed reforms has been a multi-year effort by our administration. An overwhelming majority of Baltimore City residents, and all Marylanders, strongly support these bills. We have all waited long enough. City leaders, the city delegation, and all members of the General Assembly must finally work with us to make our neighborhoods safer and to get these violent shooters off the streets."
State treasurer
And one more thing lawmakers will likely address during the session is the next state treasurer after Nancy Kopp announced her retirement in October. Kopp said she would retire officially by the end of the year. Her replacement will likely be Delegate Derek Davis, who will serve for the remainder of Kopp's term.
Scheduled votes for both the state treasurer and redistricting maps have not yet been announced.
State House leaders expect the veto overrides to be completed sometime Tuesday. A vote on a new treasurer could come Wednesday. The redistricting map should be sent to the governor before Friday.
The Associated Press contributed to this report.