4.28.21 – Insurance Journal
Long-time home security firm ADT is suing rival upstart Ring alleging the newcomer is violating its trademarks by using signage that is very similar to the blue octagon logo that ADT has used for decades.
In using the similarly colored and shaped signage, Ring is "seeking to tout a reputation for trust to potential customers that it has not earned," states the lawsuit filed in U.S. district court in Florida.
ADT's suit includes counts of willful trademark infringement and unfair competition against Ring.
ADT is a 140-year old security, alarm and smart home services firm with more than a dozen trademarks related to its blue logo. Ring, founded in 2013 as Doorbot, manufactures a video doorbell and other smart home products. Ring was discovered through the TV show Shark Tank, and was later acquired by Amazon.
The two companies actually have some history together. ADT has sold Ring's video doorbell to ADT customers for use with their ADT systems under agreements with both Ring and Amazon.
ADT has also gone to court against Ring once before. In 2017, Ring had decided to launch its own home security and automation platform in competition with ADT. ADT accused Ring of misappropriating source code and documentation for a security platform that ADT was developing. In that case, ADT obtained a preliminary injunction enjoining Ring from using ADT's software, source code, specifications and related trade secrets and Ring settled with ADT.
According to ADT, Ring has signed agreements prohibiting it from using trademarks or symbols that might be confused with ADT's, including ADT's blue octagon, as well as language or pictures implying any endorsement by or agency relationship with ADT.
The signage issue first arose in 2016 when ADT complained about Ring's yard signage shaped in an octagon and using blue color: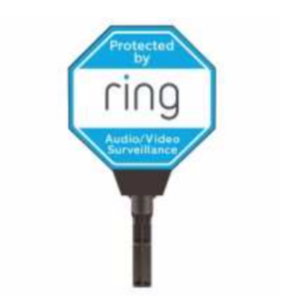 After ADT raised concerns, Ring agreed to remove a majority of the blue color to lessen the risk of confusion: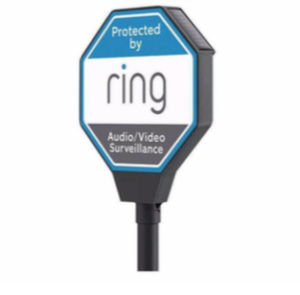 But ADT says that in late March 2021, it learned that Ring had adopted a blue octagon mark that is "virtually indistinguishable" from ADT's blue octagon for use in connection with Ring's own security offerings, including an outdoor alarm.
While Ring changed the color of its yard sign in 2016 to remove some of the blue color, Ring now "outright copies" ADT's blue octagon with its solid blue outdoor alarm sign, as ADT showed with photos:

"Ring's unauthorized use of ADT's Famous Blue Octagon will cause confusion with ADT's customers, potential customers and the public at large, and will cause them to mistakenly believe that there is an affiliation or association between Ring and ADT," the lawsuit claims.
"This type of confusion seriously undermines the goodwill that ADT has cultivated in its Famous Blue Octagon and irreparably harms ADT."
ADT also claims Ring uses the blue octagon on its website: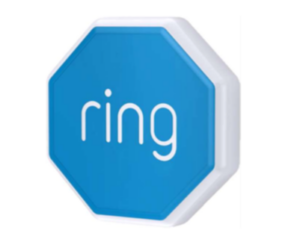 ADT is asking the court to enjoin Ring from using ADT's blue octagon and all "colorably similar marks," award ADT treble monetary damages, require Ring to disgorge all profits from sales of the outdoor alarm and award ADT punitive damages, attorneys' fees and costs.
Ring did not reply to a request for comment.