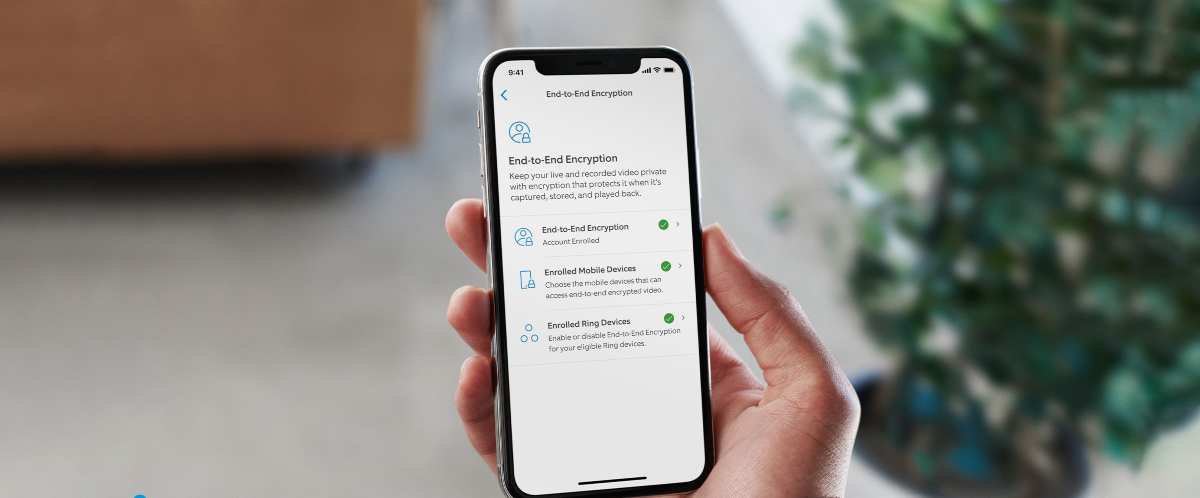 7.15.21 – CEPro – Jason Knott  •
Ring adds video end-to-end encryption for extra layer of security. Videos can now only be viewed on enrolled mobile devices.
Ring is making life much more difficult for hackers these days. After first announcing it would institute video End-to-End Encryption (E2EE) in the U.S. earlier this year, Ring is making it a worldwide feature.
Ring, owned by Amazon (Nasdaq: AMZN), has been proactive in its quest to inhibit hacking of its devices, first announcing mandate of two-factor authentication in early 2020. Now the company is releasing several new privacy and security features that put control in the hands of customers to help them keep their accounts and information secure.
Video End-to-End Encryption was previously in technical preview and now it is launching globally. As part of the rollout, Ring has added additional devices that can utilize video End-to-End Encryption, including its Ring Video Door Pro, Ring Video Doorbell Pro 2, Ring Video Doorbell Elite and many other devices. The company says it is the first major home security provider to offer E2EE, which provides an advanced, opt-in security feature for customers who want to add an additional layer of security to their videos.
"By default, Ring already encrypts customer videos when they are uploaded to the cloud (in transit) and stored on Ring's servers (at rest)," says Josh Roth, CTO. "Now, customers around the world, with eligible Ring devices, can opt into video End-to-End Encryption, to add an extra layer of security that only allows their videos to be viewed on their enrolled mobile device. This advanced security option is simple to set up via the Control Center in the Ring App, and offers additional peace of mind and protection."
The company has also announced support for authenticator apps for Two-Step Verification. Authenticator apps are simple to use and offer an additional, secure method for customers to receive a One-Time Password.
Ring is also rolling out CAPTCHA in its app and Neighbors app as another safeguard to protect customer account information and help prevent automated login attempts from bad actors.
Lastly, as part of its effort to deliver easy-to-use services, in the coming weeks Ring will launch a new, automated self-service process to allow customers to securely and conveniently transfer ownership of used Ring devices. Instead of requiring customers to call in to Customer Services, the new process empowers the new device owner to scan the device during setup, and follow the instruction flow on the Ring app, while alerting the original device owner to remove the account from their app.
"Privacy choices are important and everyone thinks about their privacy in a different way. That's why we continue to innovate on our customers' behalf, and to offer a range of settings to help people customize their experience, while staying safe and secure," says Roth.