8.21.19 – CEPro –Andrew Nichols
Data from ADT shows more consumers are interested in buying smart security technology, smart hubs, and smart TVs than in years past.
ADT recently partnered with several major technology publications like Engadget, CNET, and Digital Trends to find out how consumers feel toward smart homes and smart technology. While the results aren't exactly clear-cut, the data points toward growing consumer interest and support for both internet of things (IoT) and smart devices.
Put simply, the IoT market will continue to expand. According to the report, by 2023, the global smart home industry is projected to surpass $150 billion. America leads the way in adoption, with over 45 million smart devices currently installed in homes across the country.
But while the eventual embrace of smart devices seems likely, many still voice concerns related to a full transition to smart devices.
Recent research suggests that consumers are eager for smart home security but leery of devices that could compromise their data privacy. Moreover, many connected products fall short of the convenience they promise, with one in three people struggling to operate their smart gadgets.
To find out how the general population is adapting and supporting smart home tech, ADT surveyed more than 1,000 individuals, analyzing their attitudes about specific technologies and connected devices more generally.
Smart Tech Adoption
Among those surveyed, the majority owned at least one smart home device, with a significant portion owning several. More than 60% possessed between two and five connected devices, a testament to the appeal of connectivity between internet-enabled products.
Some experts suggest that smart speakers, such as the Amazon Echo or Google Home, frequently encourage further home automation since consumers interested in these gadgets tend to purchase compatible devices.
The data also indicated that smart speakers also account for the popularity of voice-commanded devices. Nearly four in five respondents preferred talking to their tech instead of operating an app.
In explaining their purchase motives, almost 84% of respondents cited convenience as essential to smart devices' appeal. More than 43% also listed comfort and the ability to track data related to their home as motivational factors. 37% attributed their purchases to a desire for greater security for their family.
The U.S. leads all other nations in smart home security installations, with internet-enabled systems installed in nearly 25% of households, with analysts projecting that demand for smart security devices will expand even further in the coming years, becoming an $11 billion industry by 2025.
Smart Hubs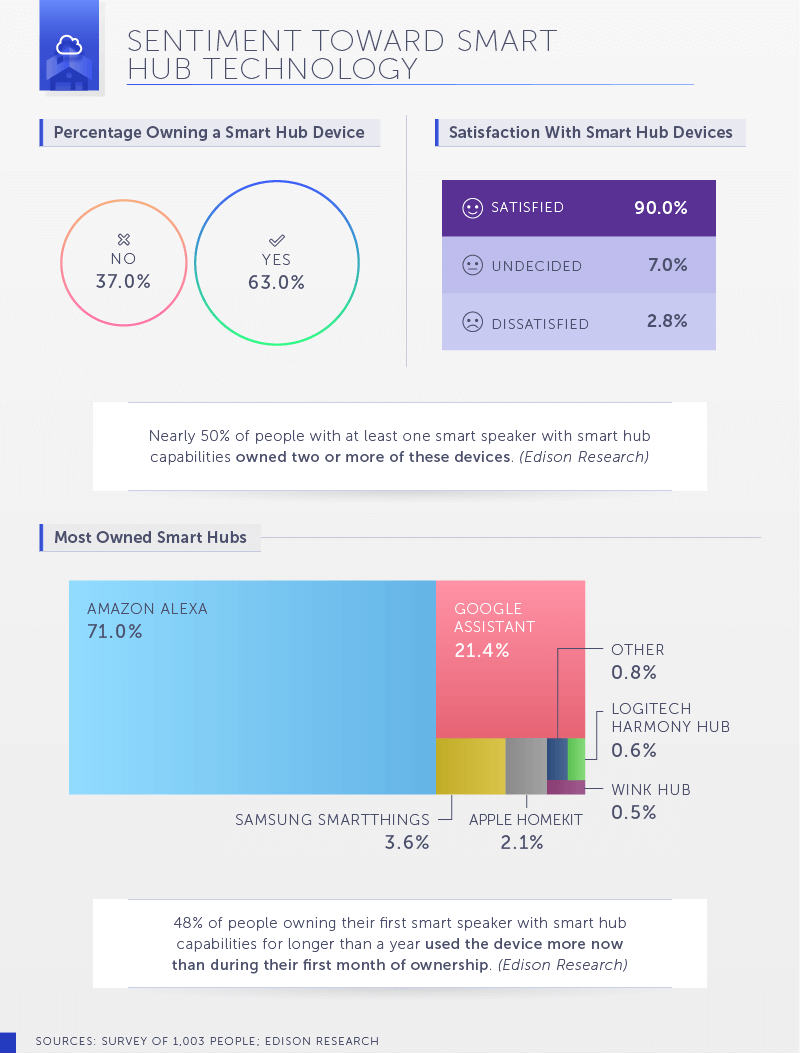 Among the respondents, 63% owned a smart hub device – a striking testament to the presence of connected gadgets in homes.
While the smart hub category includes an expanding range of products and technologies, most consumers seemed pleased with the particular hubs they'd selected for their homes. 90% of respondents described themselves as satisfied with their smart hub products, perhaps because they engage them in different ways over time.
One report found that 48% of smart hub owners utilize their devices more after adjusting to them for a year (by comparison to their use beforehand).
While the smart home landscape includes several competing companies, Amazon seems to possess a sizeable lead, with 71% of respondents using an Alexa smart hub. Google Assistant was a distant second with 21% of respondents preferring its system.
Smart TVs Dominate Market
Smart TVs are by far the most common form of smart technology according to the study, with nearly 73% of respondents reporting they owned one currently. However, this finding may simply reflect the standardization of smart features across the category.
Additionally, 35% of respondents said they owned a smart speaker (other than a hub). More than a quarter of individuals owned a smart thermostat, and a similar percentage had smart lightbulbs.
By comparison, relatively few people owned smart appliances designed to assist with domestic necessities, with less than 10% of respondents reporting ownership of a smart cooking or cleaning device.
According to ADT, if the trajectory of smart device ownership in recent years is any indication, market penetration should increase substantially for these products. Among respondents with smart devices, over 85% purchased their gadgets in 2016 or later, indicating a recent surge of interest in the category.
Smart Home Security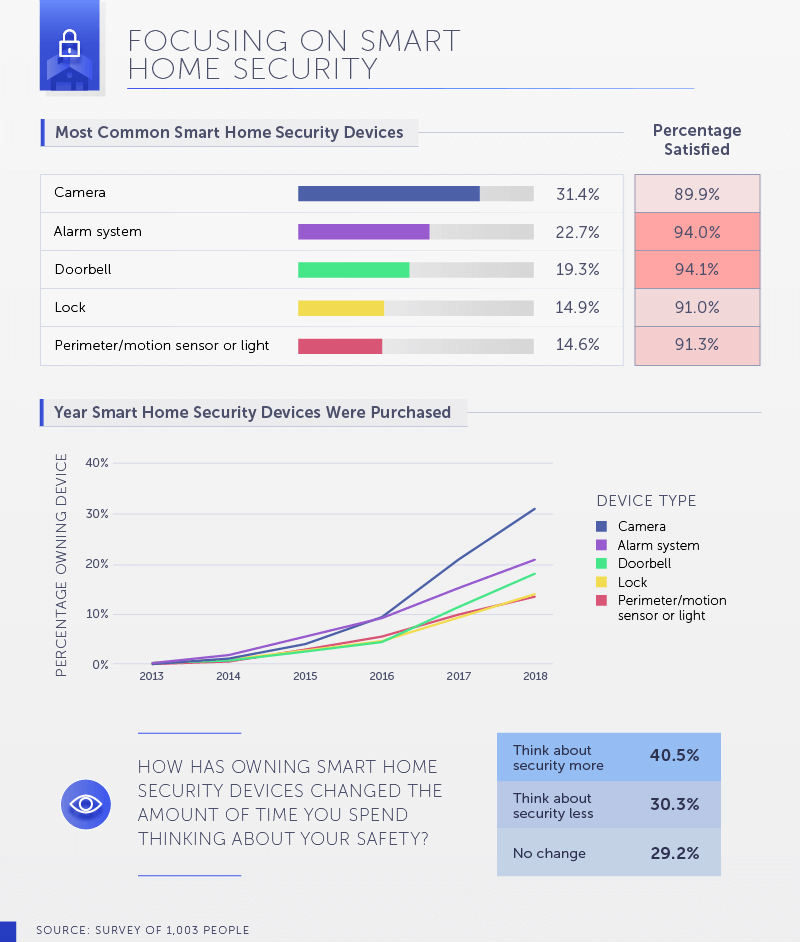 When it comes to smart home safety, approximately 30% of respondents said they had a smart camera installed, and the majority of those respondents indicated they were satisfied with their purchase. Even better, satisfaction rates were higher for slightly more sophisticated home security gadgets. ADT reports that 94% of individuals who had smart alarm systems and doorbells were pleased with these products.
The data suggests smart home security products enjoyed a surge in popularity after 2016, with a particular uptick in smart camera ownership following that year.
However, while these products may deliver peace of mind, they seem to cause some individuals to consider safety issues more frequently.
Over 40% of respondents said their smart security devices caused them to think more about safety, perhaps because many of these products send notifications or livestreams directly to users' smartphones.
Protection vs. Privacy
In general, U.S. consumers have indicated an interest in improving their physical security without rendering their most intimate data vulnerable to misuse. Overall, respondents were evenly split on which forms of security mattered more, although opinions varied significantly by demographic.
Older respondents, for example, tended to prioritize data protection, while millennials and members of Generation Z favored physical security. These findings coincide with other recent research suggesting that young Americans are more aware of data privacy concerns than prior generations but less concerned their data will be stolen or misused.
Understandably, parents were more concerned about securing their home than respondents without children. In fact, a recent survey affirmed that children are a leading reason homeowners install smart security systems.
Consumer Purchase Preferences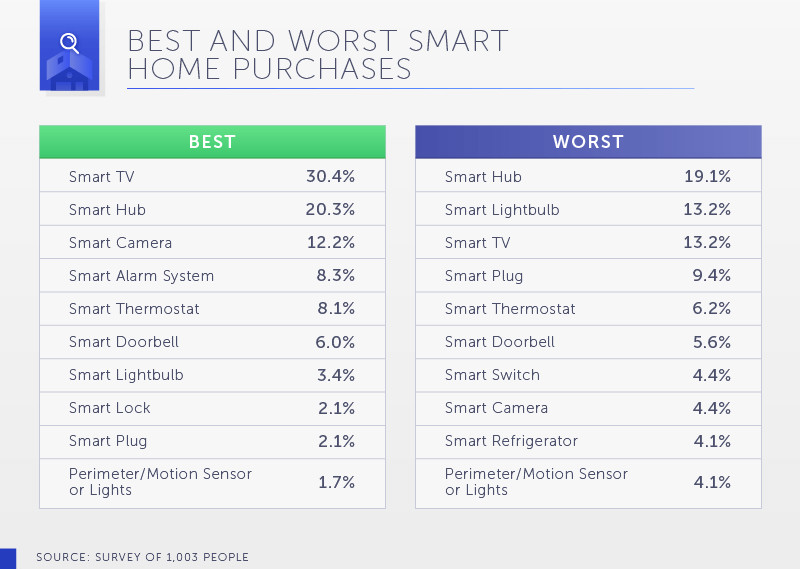 In addition to being the most prevalent internet-enabled products in American homes, smart TVs were also regarded as one of the best smart home purchases by ADT's respondents.
Smart hubs prompted more mixed opinions: 20% said these devices were among the best purchases, while 19% said they were among the worst, which is a bit of a headscratcher considering these findings conflict with earlier findings suggesting that most smart home users are satisfied with their devices.
In addition, smart doorbells and thermostats reported statistically similar approval and disapproval rates.
By contrast, smart security devices were generally viewed in positive terms, with 12% of respondents saying they viewed smart cameras as among the best possible purchases, while just 4% deemed them among the worst.
Similarly, 8% regarded a smart alarm system as a good purchase, and no meaningful data was collected to indicate negative feelings toward these products.
Big Brother Worries
When ADT asked individuals without smart home devices why they had resisted IoT, most fell into one of two camps.
One group of respondents weren't swayed by the advertised simplicity of these devices. While convenience may not be a priority for this group, they might be swayed by arguments regarding efficiency.
The other category of objections centered on privacy concerns. In this group, the predominant concern was a sense of continuous surveillance and the notion that collected data could be mishandeled.
Recent research suggests that nearly half of Americans believe smart devices are recording consumers' conversations to target them more effectively with advertising. Beyond data collection by device-makers themselves, many fear their information might be sold to third parties.
Who Do We Trust?
The overall findings attest to the suddenness and scale of the smart tech revolution. In just a few years, the internet of things has transformed from an intriguing novelty to an essential feature of the modern home.
Even if a certain percentage of consumers are concerned about their data security and privacy, smart device adption rates continues to grow – and few consumers seem to regret their smart home investments.
In the midst of this ongoing transition, the major question for American families may not be whether to purchase smart products of their own. Rather, their chief concern will be which companies to trust as they inevitably move toward connected devices.
---
Click here to see a full list of sources used for this data, as well as the original source for this article. 
Andrew is a journalist and educator living in the Providence area. He was previously the Editor-in-Chief of a gaming and tech website, and the Managing Editor of his university newspaper, The Torch. He received his Bachelors in Writing and Masters in Teaching from the University of Massachusetts Dartmouth. Have a suggestion or a topic you want to read more about? Email Andrew at andrew.nichols@emeraldexpo.com