12.27.20 – NASHVILLE, Tenn. Natalie Allison Nashville Tennessean
Anthony Quinn Warner was the bomber in the explosion that rocked downtown Nashville on Christmas Day and he died in the blast, authorities said Sunday.
Warner, 63, was a longtime Nashvillian who held several IT jobs.
Public records show he had extensive experience with electronics and alarm systems. He worked as an independent computer technician with the real estate firm Fridrich & Clark.
Warner, who was previously named as a person of interest in the case by Nashville Police Chief John Drake, is believed to have acted alone in the incident, investigators said.
"Anthony Warner is the bomber. He was present when the bomb went off, and he perished in the bombing," U.S. Attorney Donald Cochran said Sunday.
Through DNA evidence, authorities confirmed Warner's remains were found at the scene, Cochran said.
Evidence indicates that Warner likely did not intend to kill others in the attack, according to the Tennessee's top investigative official.
What motivated him is still unknown.
"It does appear that the intent was more destruction than death," said David Rausch, director of the Tennessee Bureau of Investigation, in an interview Monday on TODAY. "That's all still speculation at this point as we continue in our investigation with all of our partners."
Federal agents searched his home in Antioch, and the Fridrich & Clark real estate office in Nashville on Saturday.
Google Street View images of Warner's home show a white RV parked behind a wooden fence on the property. His neighbors reported seeing the RV at the home for years.
A white RV was at the center of the blast Friday morning on Second Avenue in Nashville.
Police said the explosion came from the RV soon after a speaker system broadcast a warning to evacuate the area.
Police in the area moments before the blast said the speakers played the wistful 1964 song "Downtown" by Petula Clark. The lyric, about going to the city to seek refuge from sadness, echoed on Second Avenue before the blast: "The lights are much brighter there."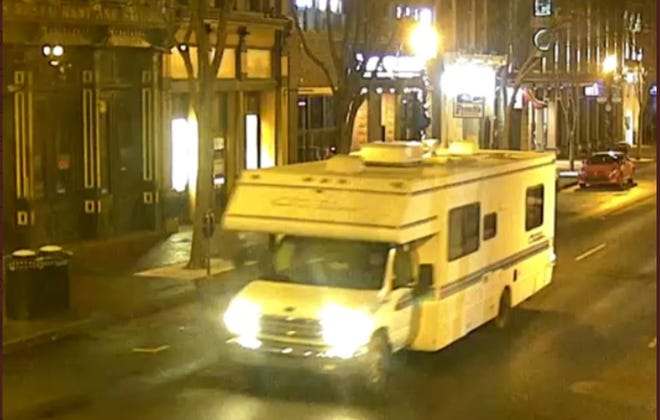 "When you look at all the facts at this point, obviously the audio from the vehicle warning people that an explosion was imminent, the opportunity to clear the area, certainly gives you that insight that the possibility was he had no intention of harming anyone but himself," Rausch said. "That obviously plays into our investigation."
Despite massive destruction to 41 buildings, no one else was killed in the explosion. Officers helped evacuate nearby residents from several apartments.Get the Coronavirus Watch newsletter in your inbox.
Stay safe and informed with updates on the spread of the coronavirusDelivery: VariesYour Email
The RV was parked outside of an AT&T facility, though authorities have not said whether they believe the telecommunications company may have been a target. The blast caused extensive damage to phone and internet coverage throughout the region, causing communication blackouts for 911 centers in surrounding counties, leaving customers throughout the state without service and exposing vulnerabilities in infrastructure.
Authorities are expected to continue their investigation downtown in the coming days. The type of explosives used in the blast remain unknown. Warner wasn't on the radar of law enforcement before Friday's explosion, they said, and officials have declined to deem the bombing an act of terrorism.
Who was Tony Warner?
Warner grew up in the Nashville neighborhood of Antioch and attended Antioch High School, graduating in the mid-1970s before settling down in the same community and working various IT jobs.
But in just the past month, Warner transferred ownership of the home where he had lived for decades. He informed a regular business client he would no longer be working.
Property records show on the day before Thanksgiving, Warner transferred the title of his longtime home to a Los Angeles woman. The transaction, a quitclaim deed that did not require the woman's signature, was made for $0.
Steve Fridrich, who owns Fridrich & Clark Realty, said Warner was hired four or five years ago as a contractor to provide IT services for the business. Warner repaired the company's computers and set up machines for new employees.
"In December he sent us an email saying he'd no longer be working for us," Fridrich said.
Warner didn't give a reason.
The company reached out to the FBI after learning through news coverage that Warner was a person of interest in the case. Agents visited the office Saturday evening, FBI spokesman Jason Pack confirmed.
Warner hadn't had a run-in with authorities since 1978, when as a young adult he was charged with felony drug possession. He served two years of probation.P
Yearbooks from Antioch High School show Warner, a short teenager with glasses, played on the school's golf team.
Charlie Bozman was Antioch's golf coach in 1974 when Warner played.
"What I can remember about him was essentially three things: quiet, polite, and I don't like to use the term, but quite frankly nerdish," recalled Bozman. "He was a very reserved person. He wasn't outgoing around me.
"I never had any discipline problems with him whatsoever, but that whole group was all great kids."
Today, Warner does not have a public presence on social media or other websites.
Neighbor: Warner said 'world is never going to forget me' days before blast
Rick Laude, a neighbor of Warner's, said the bomber told him days before Christmas that "Nashville and the world is never going to forget me," the Associated Press reported.
Laude said he saw Warner standing at his mailbox on Dec. 21 and pulled over in his car to speak with him. After asking how Warner's elderly mother was doing, Laude said he casually asked him, "Is Santa going to bring you anything good for Christmas?" Laude said Warner smiled and then said, "Oh, yeah, Nashville and the world is never going to forget me."
Laude, 57, a commercial truck driver, said he didn't think much of the remark and thought Warner only meant that "something good" was going to happen for him. He said he was "speechless" later when he read that authorities had identified Warner as the suspected bomber.
"Nothing about this guy raised any red flags," Laude said. "He was just quiet."
Steve Schmoldt and his wife have lived next to Warner for more than two decades. He described his longtime neighbor as friendly, someone with whom he made brief small talk.
He said Warner was "kind of low-key to the point of, I don't know, I guess some people would say he's a little odd."
"You never saw anyone come and go," Schmoldt said of Warner's home. "Never saw him go anywhere. As far as we knew, he was kind of a computer geek that worked at home."
Warner placed lights and security cameras outside his house.
Warner did a lot of work in his yard. Schmoldt said Warner built the fence around his yard himself.
The neighbors never talked about politics or religion. Warner never gave any indication of any closely held ideology.
"I can tell you as far as politics, he never had any yard signs or flags in his window or anything like that. If he did have any political beliefs he kept, that was something he kept to himself," Schmoldt said.
Warner had dogs over the years, first two small Shelties and then a larger dog he adopted, though the pets have since died. Schmoldt said Warner "took really good care of his dogs," even building a wheelchair ramp for them when they got older so the animals didn't have to use stairs to get inside the house.
Schmoldt said that after the RV had been parked outside the home for years, a couple of weeks ago, Warner built a gate in the fence and drove the RV into his yard.
Daniel Douglas, who lived across the street from Warner for 26 years, said Warner told him he moved the RV because people were trying to break into it.
"To be honest, we didn't really pay any attention it was gone until the FBI and ATF showed up," Schmoldt said.
He and his wife watched the news Christmas morning as information began to unfold about the Second Avenue bombing. They saw the photos police released of the RV that exploded.
It didn't click that their neighbor might be connected until Saturday, when they saw a large group of law enforcement officers outside Warner's home.
"Holy cow, there's a SWAT team out there," Schmoldt recalled his wife saying as she looked out the front door midmorning Saturday.
Warner owned electronics and alarm company
State business records show Warner registered the company Custom Alarms & Electronics, which specialized in producing burglar alarms. The company had an alarm license from November 1993 through November 1998.
Court records show Warner was enmeshed in a family dispute when he transferred ownership of a second family home to himself about one month before his brother died in 2018.
His mother filed a petition in February 2019 asking a judge to overturn the real estate transfer, arguing that Warner, who was his brother's power of attorney, acted in self-interest in the property transfer since it resulted in personal financial gain. https://6c2fda0ed5400cad8da33f585def03cf.safeframe.googlesyndication.com/safeframe/1-0-37/html/container.html
The case was dismissed in October 2019 at the mother's request. Attorney Yancy Belcher said the family asked the mother not to speak to the media.
Contributing: Mariah Timms, Brinley Hineman, Natalie Neysa Alund, Adam Tamburin, Mike Organ, Cassandra Stephenson of the Nashville Tennessean; Jay Cannon of USA TODAY; the Associated Press.