7.1.20 – SSI – July 01, 2020  Elizabeth Parks 
Security dealers no longer compete with just each other, but now must also fend off retail giants and multi-service operators.
Editor's Note: SSI has partnered with Parks Associates for the creation of DIY FYI, a column designed to help dealers keep track of important smart home market developments, what the competition is and whether they want to jump into something they see as a new opportunity.
Parks Associates estimates a total of 13,000-15,000 security dealers operate in the US; most are small and serve local geographies. In 2018, over 50% of dealers reported annual revenues of less than $1 million, though the average annual revenue was roughly $2.2 million.
The high volume of small dealers highlights continued channel fragmentation, a historic industry trait. A handful of national industry giants exist — after that, dealers are primarily regional and local.
The residential security market continues to evolve as interactive services and smart home technology give dealers additional value propositions when selling security solutions. Dealers report 35% of system sales include interactive service with smart home products. 72% of dealers cite consumer demand as the most important reason for offering smart home devices and services.
However, competitive pressure is increasing from self-installed/DIY security systems and competition outside the traditional security channel.
Technology and the way people consume goods continues to evolve, and the channel is not immune to this evolution. Mandated lockdowns and quarantines will continue to create shifts in adoption of technology at home.Related:New Use Cases to Drive Professional Monitoring Revenue Past $15B in 2020
Retail Channel
A number of recent market entrants are on paths to expand the residential security market, particularly in the retail channel. While traditional home security companies still hold the largest channel share, the retail channel appears to be making gains; 41% of consumers report purchasing their security system through the retail channel.
One of the most notable examples of the retail channel capitalizing on security solutions is Ring from online retailer Amazon. When asked about the impact Ring would have on the traditional security business, 54% of dealers stated Ring would have at least some impact on their firm's business, 60% stated Ring would impact market prices for monthly monitoring fees, and 50% stated vendors for interactive services (e.g., Alarm.com, Total Connect) would be impacted.
Though Amazon's Ring is not the only solution available via the retail channel, its notoriety and perceived impact signal changes for the residential security industry.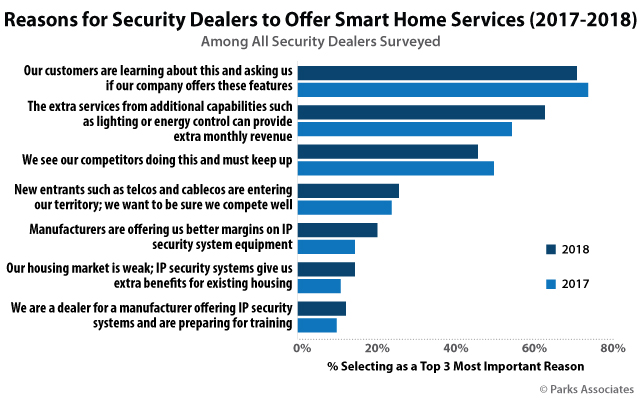 Multi-Service Operator Channel
The emergence of cable and telecommunications companies — also referred to as multi-service operators (MSOs) — in the residential security market has sparked both concern and optimism. Traditional security dealers see MSOs as a threat, given their substantial existing customer base, brand recognition, and marketing strength.
However, there is also belief in the security industry that the entrance of MSOs will help raise awareness of home security and smart home solutions among the majority of consumers who have yet to adopt these devices and services.Related:Solving the Residential Security Conundrum of COVID-19
Parks Associates consumer data shows MSOs as the third most common channel to purchase smart home devices, a strong lead-in to offer consumers security devices and services. MSOs can provide professional monitoring cost-effectively as they own their networks and amortize those networks across multiple services.
By offering competitive bundles and promotions, MSOs seek to add marginal revenue and increase stickiness for their offerings. Attaching a favorable service such as security to services that are facing maturing markets or threats is one way of increasing ARPU and lowering potential attrition across the board.
Additional Channel Opportunities
Business model innovation through partnerships in other channels is an important trend for the residential security marketplace. Partnerships with insurance providers, for example, can extend beyond discounts on home insurance for theft deterrence and detection.
Insurance providers are evaluating how various smart home technologies can help mitigate risk, minimize claim losses and attract or retain policy holders. Security companies can work with insurance providers to achieve these objectives, and understanding the needs of insurance providers may open up opportunities for value-added services appealing to consumer and provider alike.
There is also the possibility of expansion within the security channel, itself. While some dealers may view smart home devices, subsystems, and controllers as competition to classical security, there is an opportunity for these devices to be complementary adjacencies to security systems and a means to expand security system offerings' functions and benefits.
These devices represent the heart of access control for the home, and complement the core pro-monitored offering – premise security.
Though many believe substitute offerings are a threat, some security dealers instead view these devices as another path to awareness. While stand-alone, self-monitored, smart security devices may resonate with a segment of the market unwilling to adopt professional monitoring but desirous of some form of security, they also serve as an avenue to create awareness among consumers as to the value of professional monitoring and enhance traditional security offerings.
Once a consumer experiences the peace of mind achieved by simply owning and self-monitoring a device, they are more likely to see the value and peace of mind that 24/7 professional monitoring can provide.
Outside of DIY/self-installed security solutions, one of the biggest challenges dealers report facing is the inability to find qualified personnel. Over one-quarter of dealers report obtaining qualified personnel as a top challenge to their business.Related:Sudden Shutdown of Guardzilla Highlights Risks of Going DIY With Security
As the technology used in smart homes and security systems grows in complexity, consumers opting for professionally installed and monitored systems rely on their providers' expertise for configuration and support.
This requirement is a growing concern for small dealers who fear that by including home controls with their installations, support costs will increase dramatically.
Traditional security dealers have an opportunity to expand revenue by growing both volume of subscribers and RMR, expanding monitoring services to smart products, and developing new business models through partnerships.
Value-added services and simplified user experiences may be required to retain current customers. New customers may be won with DIY systems and lower cost monitoring options that are contract-free. Navigating this tension between expanding the market without eroding traditional customers is tricky and requires careful segmentation.
Parks Associates consumer data shows that those with professionally monitored systems are significantly more likely to own safety-related smart home devices than those who do not have professionally monitored security.
Offering smart products in conjunction with security services not only expands the potential base of professionally monitored security customers, but may also increase retention among those already utilizing pro-monitored security services and solutions.
These challenges and opportunities illustrate the road ahead for security dealers, in addition to adapting to the current challenges as a result of Covid-19.
---
Elizabeth Parks is President of Parks Associates. For more information on Parks Associates research, visit www.parksassociates.com