6.18.21 – CEPro
Senate judiciary subcommittee anti-trust hearing warns Amazon and Google of their growing potential monopoly on the smart home space.
Saying the smart home industry has a "monopoly problem," Sen. Amy Klobuchar (D-Minn.), kicked off a Senate Judiciary Subcommittee anti-trust hearing on June 15 that gathered executives from Amazon, Google and Sonos to testify. The hearing addressed the growing presence of big tech companies in the smart home market, along with concerns related to privacy/data-sharing, interoperability, and patent infringement, among other subjects.
"The competition subcommittee has been examining the problems that arise when a handful of companies become powerful enough to distort competition in the marketplace," said Klobuchar. "So far we have seen that excessive market power benefits a few companies that are able to wield it at the expense of consumers, businesses and workers.
"Our current anti-trust laws have not been effective in stemming the rise of monopoly power or its abuse by dominant companies. As a result, we see competition problems in industry after industry across our economy. Today we will examine an emerging industry that could fall prey to this same dynamic: connected home technology. Millions of Americans already have connected devices in their homes, including speakers, smart televisions, systems to control lighting or temperature within the home. And we are just at the beginning. These technologies will continue to develop for things like connected refrigerators and washing machines. In the years to come, they will play an even larger role in our lives.
The hearing was dubbed "Protecting Competition and Innovation in Consumer Choice on Home Technologies" and was also overseen by Mike Lee (R-Utah).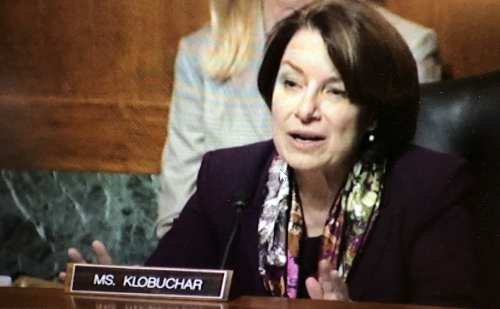 Klobuchar admitted she considers herself a fan of smart home technology, but said, "We must get ahead of this. The American people are counting on us [the federal government] to protect competition."
She cited data that at least 94 million Americans own at least one connected speaker. She asked if Amazon and Google will continue to allow third-party devices to connect through their voice assistants "even if that threatens their dominance."
She noted that in the future, U.S. households will likely have as many as 20 connected devices in their homes "and we want those devices to seamlessly interoperate."
"You should not have to choose which devices you want based upon whether or not they play nicely with Google's or Amazon's digital assistant, or whether Google or Amazon has locked them into an exclusive contract," she said. "We have seen what happens when the largest and most powerful tech companies make their own decisions about interoperability. They embrace it as long as it helps their bottom line."
Google, Amazon Privacy Concerns Addressed
The third area of concern raised by the panel was related to default settings, which most consumers do not change.
"The market leaders benefit from having their service pre-installed. Imagine a household with a connected refrigerator that automatically replenishes the supply of certain groceries. Do we want Amazon to set up Whole Foods or Amazon Fresh stores which it owns as the only place to purchase these groceries? Absolutely not… consumers should choose… not vertically integrated tech giants."
"Finally, I have concerns about privacy," said Klobuchar. "Connected technologies should make our lives easier, but that should not come at the price of basic privacy rights."
She noted how connected devices already gather information on what we say to each other, what we eat, how often we do our laundry and how well we sleep at night, among other things.
"That highly personal and sensitive information should not be aggregated and auctioned off to the highest bidder. In home technology, we see some of the most powerful firms today that dominate technology poised to dominate the future [of the smart home]. We hear concerns about Amazon's and Google's growing market power with connected speakers. We are also hearing concerns about use of consumers' personal information."
She stressed the hearing was "not about punishing companies for their success."
Google, Amazon, Sonos Execs Testify
Testifying for Amazon was Ryan McCrate, vice president and associate general counsel; Wilson White, senior director public policy and government relations for Google; and Eddie Lazarus, chief legal officer for Sonos. Both Amazon and Google defended their practices, with McCrate describing Amazon's "Works with Alexa" program that enables other companies to integrate. Google's White said the tech giant makes both consumer choice and privacy top priorities.
Later in the hearing, Sonos' Lazarus called out both Google and Amazon for their alleged violations of Sonos patents.
"For Google and Amazon specifically, the smart home — this new and growing interface between their online enterprises and consumers — presents both a threat and an opportunity," said Lazarus. "The threat is that if other companies were to be successful in the smart home space — and in particular if they were successful with controller devices that connect directly to the internet — they might stand between the dominant companies and customers. The opportunity for these companies is to dominate yet another important consumer market and, even more critically, to use their smart home systems to collect vast amounts of consumer data which can be monetized on their already dominant and enormously profitable platforms," he said.
Lazarus also warned that both Google and Amazon have a history of flooding the market with subsidized gear to kill competition.
"Amazon and Google have now come to control roughly 85% of the U.S. smart speaker market. This is terrible for innovative dynamics."

— Eddie Lasarus, Sonos
"A common strategy of Google and Amazon is to take on a competitor by producing and then flooding the market with similar (I might say copycat) products sold at highly subsidized prices or even given away for free," he told the committee. "Anyone who has followed the smart speaker space for the last few years has borne witness to this practice. Indeed, at least of one those companies has stated on the congressional record that the products themselves are money losers. But Amazon and Google, in contrast to Sonos or other smart speaker makers, can afford to lose money on the speaker products because they aren't counting on profits from the product sales themselves. Instead, they make their money by protecting the dominance of their monopoly products and from the rich trove of personal data that these microphone-enabled products vacuum up from consumers.
"The speakers are mostly just a conduit to their dominant advertising and ecommerce platforms — and so they can take the profits from those platforms and subsidize the speakers themselves. Amazon and Google have now come to control roughly 85% of the U.S. smart speaker market. This is terrible for innovative dynamics because it hamstrings those companies that have better products that cannot be sold at a loss and consumers lose," he added.