1.12.23 – SIW –
Take a closer look at the vast variety of security and safety requirements, as well as innovative approaches to serving this fast-growing vertical market (Security Business cover story, Jan. 2023)
While the rate of new facility construction took a dip during the pandemic years, once again in 2021 and 2022, the odds of a new construction project in the United States being an independent or assisted living facility are pretty decent.
The Commercial Real Estate Development Association (NAIOP) reports that senior housing is one of the most appealing sectors for real estate investment, and it is predicted to become stronger over the next decade and even accelerate further in the following decades due to population aging.
"Developing high-quality, desirable senior living communities is not just about bricks and mortar or investment returns; it is about creating spaces where people feel safe, supported, connected and cared for," NAIOP explains in the report.
Additionally, the report cites a study by the National Council of Real Estate Investment Fiduciaries (NCREIF) that found the senior living industry is fragmented, with more than 50% of the market controlled by small owner/operators that own less than 10 communities, and that nearly 60% of existing inventory is 17-plus years old and not designed to meet today's customers' needs.
"There are two elements to the market: One is what I will call the nursing home level, which is a lot of the older facilities; the other are the new builds, which are more like 'communities,'" explains Mike Bradley,
President and CEO of Arizona-based integrator ECD Systems. "In the communities, you move in when you are 70-75 years old, and you go into apartment living, and then they take you to the next level, where you get a little bit of care, and then the next level, and so on…eventually to a nursing home-type level. That is what we see mostly being built now."
This is where security integrators can play a vital role – crafting unique and cutting-edge solutions for new facilities while upgrading the outdated ones – in an effort to help these communities and facilities stand out among the often-heated competition for residents.
The Arc of Care
To best serve the independent and assisted living market, integrators must understand that it is often far more than a single facility, and that the operators of these communities have varying goals for each stage of the assisted living journey.
"There's almost like an arc of care in these communities – you go from independent living, to assisted living,
to skilled nursing care, and then dementia/memory care and even hospice," explains Kevin Jameson, who was a former alarm company owner and salesperson for a variety of security industry manufacturers before founding the Dementia Society of America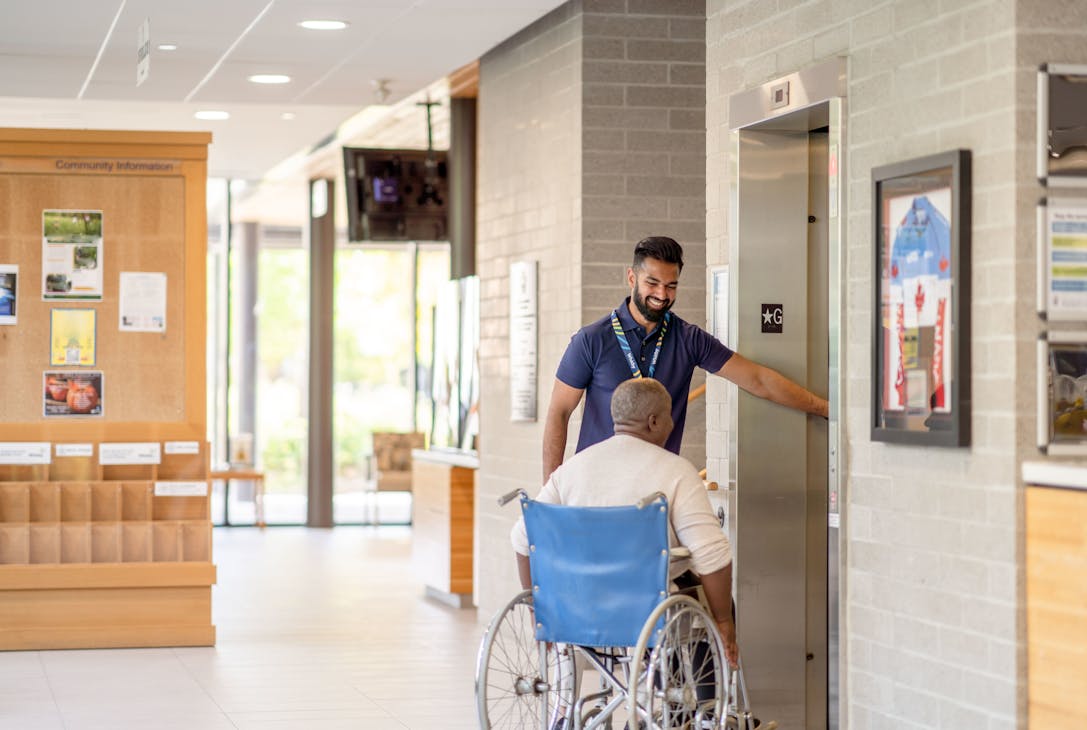 (www.dementiasociety.org), of which he is the president.
"You can have people who are in independent living but are developing a cognitive impairment or are cognitively impaired, and the same is true with assisted living," Jameson says. "The other thing to overlay on that arc is that there is an arc of cognitive impairment. Somebody might be cognitively impaired, but to a minor degree and stay that way forever. Somebody else might be cognitively impaired, but they progress over time and won't be the same a year from now or five years from now."
The hurdle for security integrators is how to cater to such a variety of residents – from someone looking for a wide array of amenities associated with independent living, to the comfort and care needed in assisted living, to the intensive needs of someone in skilled nursing, memory care and hospice.
"Trying to see it from the resident's perspective is the biggest thing," explains Brendan Kamps, a physical security consultant with H. Stephen Jones and Associates. "People have to live here, so you are trying to make it feel less like an institution. You want it to look like someone's home, but at the same time, you have people with varying needs and capabilities. Matching the interior design [with technology] is a big thing. Another piece that gets overlooked is making sure everything is intuitive. As people get older, making things as least confusing as possible and just second nature is another big thing."
In the competition for residents, being able to provide a way for people to smoothly transition from one stage to the next while remaining in the same facility is critical for integrators. Using this as the basis for a case proving return on investment (ROI) may lead to a facility or operator choosing a more robust or high-cost technology solution.
"[It helps] if you can use technology to help somebody live in a community a little bit longer," Jameson says. "Technology can also help give you signals that a person may have to transition to a different type of community or different type of setting with the community."
Basic Security Needs Across the Arc
Kamps says the security baseline is essentially the same across the arc of care, such as basic access control, video surveillance and analytics, personal alarm and nurse call systems, and fire and life safety; however, that baseline can be built upon for memory care and higher-level needs.
"It is also important to make sure that that software is easy to use," Kamps adds. "A lot of the bigger operators have front desk staff that is constantly turning over, so you don't want to offer them a very complicated system and interface."
Jameson offers a unique perspective on dementia/memory care and the role of security: "I retired from Honeywell because my wife had developed dementia, and I just wanted to be able to better care for her in her last year of life," Jameson explains. "That's what really drove me to do what I'm doing. I just found that there wasn't enough information out there about dementia. People had a lot of misconceptions. It is one of the reasons why I've continued to work with the [security] organizations and companies that I've known for decades and the technologies I've known, because I think there's a lot of crossover.
"There's some basic block-and-tackle stuff, which works in a lot of cases, but then there's a nuanced aspect of cognitive impairment that people just don't really understand until they start working with it," Jameson adds.
The first step in memory care is mitigating what the industry refers to as "elopement" – which Jameson is quick to point out is actually different from "wandering."
"The act of leaving your living space undetected or attempting to escape, that's elopement," Jameson explains. "If I wanted to wander down the street, I'm doing it for relaxation and enjoyment, like if I'm wandering in the woods. People with a cognitive impairment that's severe enough to cause a need to elope are actually leaving with intention."
"Understanding building and life safety codes are important when designing solutions to prevent elopement from memory care units," adds Securitech president Mark Berger, who is also chair of the Builders Hardware Manufacturers Association (BHMA) Codes, Government and Industry Affairs committee. "It is important to know the relevant IBC and NFPA codes, as they do permit the use of delayed egress or controlled egress locks on exit doors 'where the clinical needs of persons receiving care require their containment' or 'where patient special needs require specialized protective measures for their safety.'"
Berger adds that, as with all code requirements, one must also be familiar with any local restrictions and requirements, and he suggests consulting with a door professional, such as an Architectural Hardware Consultant (AHC), to ensure proposed solutions are code-compliant.
Beyond the basic technology, Kamps says the next emerging technology is video analytics, which can enable fall detection and other data gathering mechanisms for resident/patient safety. "Passive technology is becoming more common on the front lines," Kamps says.
To that end, newer sensor solutions and even cutting-edge LiDAR solutions may find a home in the assisted living market.
Going Beyond the Gadgets
Bradley, who says his primary vertical is healthcare facilities, is adopting a different security integration mindset when it comes to hospitals, nursing homes and assisted living.
"There's a race to the bottom in these markets right now on cost and inexpensive products, and they don't have a very long lifecycle to them, and there's an equal amount of software that has to be implemented along with the hardware," Bradley explains. "What's happening in healthcare in general is that we are shifting from a model where we build products and then throw a little software at them to building software and trying to accomplish objectives for patient care and health tracking, and then figuring out what hardware devices are needed to enhance the software. It is an absolute flip over the traditional 'putting stuff on the wall and on people.'"
Bradley explains that in healthcare, the emergency record management system (EMR), contains all of a patient's records. While HIPAA would not grant universal access to that information, generalized entries into software at an assisted living facility (e.g. grandma participated in an exercise class today) would be vital data for a family making life decisions.
"You're not going to know that by using a sensor," Bradley says. "You need software that is pulling that information because somebody typed in that grandma participated, she had this scheduled, and this is what her schedule looks like. That's where the software gets designed first, and then you decide to what extent the sensors and other technologies can enhance data – such as whether or not someone ate today and where they ate (cafeteria or in their room).
"Those are things that are not sensor-driven," he adds. "They are not products; it is software that enhances that provision of information."
Bradley says assisted living facility owners or managers live every day with this kind of software, as it is an integral part of their record keeping. He says this sort of flipping the traditional integration model on its head has revolutionized the way he serves the healthcare market.
"When you can show them how you can take some [patient] information and then tie traditional systems like security and nurse call, and then aggregate that information into a patient portal that helps them and the family keep an eye on things – then you can also start using AI, which is really the next level, to make decisions," Bradley says.
Based on record keeping, activity, sensor inputs, etc., AI can, for example, issue an alert that a patient or resident has not followed their normal routine for the last three days, and that it needs to be investigated.
"That's where we're headed with this, and it all takes software to do it," Bradley says.
"If [an integrator is] not into the network and the servers and the software and how to implement all of it, they are going to get left behind," Bradley warns. "Yes, it does take a different mindset, but it is just a different version of long-term care. Not all of this exists yet, but it is where I see all this going."
Paul Rothman is Editor-in-Chief of Security Business magazine, a printed partner publication of SecurityInfoWatch.com. Access the current issue, archives and subscribe at www.securitybusinessmag.com.
Non-Profit Care Facilities
Beyond the most popular national and regional operators of assisted living, there are government-funded initiatives also looking for solutions.
"The assisted living and retirement communities are full of people with money who can afford it," says Tom Carnevale, co-founder and COO of Umbrella Technologies. "It is a privatized thing; however, the bigger population of people who are getting older and who may have mental and physical challenges is much higher."
This is where organizations like the Association for Individual Development (AID) are making a difference. Founded in 1968, AID's mission is "to foster the personal, social and economic development of individuals with disabilities and other vulnerable populations." Among its offerings are residential services, which is indeed a form of assisted living.
"It is for people who maybe don't have anybody else or any resources to get this kind of help," Carnevale says, adding that his company has performed security assessments, consulting, design work and even upgrades for a variety of the facilities, which can be a traditional building or even a converted residence.
"We've been working with them for around four years, and no location is the same – there are zero 'cookie-cutter solutions' for them," Carnevale says. "Staffing is a major issue for these places, so technology can really help. If you only have so many hands and two hands are tied, then technology that can provide situational awareness of what's happening can really be that third hand."
As part of the community, Carnevale sees it as a duty to step up to try and help organizations like AID. "Look up what programs are available in the state that you serve and maybe volunteer," he says. "It is important that your business is part of the community."