10-7-18 MDBFAA – Brad Shipp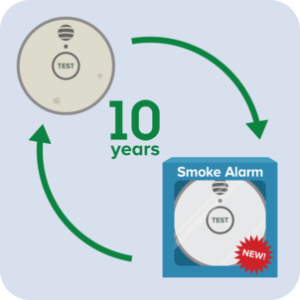 The 2018 Maryland General Assembly passed Senate Bill 728 to state that:  ON OR AFTER OCTOBER 1, 2018, A PERSON MAY NOT SELL A BATTERY OPERATED SMOKE ALARM IN THE STATE UNLESS THE SMOKE ALARM IS A SEALED, TAMPER RESISTANT UNIT INCORPORATING A SILENCE/HUSH BUTTON AND USING ONE OR MORE LONG–LIFE BATTERY.  A "LONG–LIFE BATTERY" MEANS A NONRECHARGEABLE, NONREPLACEABLE PRIMARY BATTERY THAT IS CAPABLE OF OPERATING A SMOKE ALARM FOR AT LEAST 10 YEARS IN THE NORMAL CONDITION.   A person who violates this section is guilty of a misdemeanor and on conviction is subject to a fine not exceeding $1,000.
This has caused concern among some alarm dealers.
This new law ONLY applies to battery operated smoke alarms. 
Smoke alarms are self contained detectors with alarms.
Smoke detectors connected to a fire alarm system are not included when you say smoke alarms.
It also excludes hardwired smoke alarms
The new Law also includes an exemption for system detectors: 
THIS SECTION DOES NOT APPLY TO:
(1) A FIRE ALARM, A SMOKE DETECTOR, A SMOKE ALARM, OR AN ANCILLARY COMPONENT THAT IS:
(I) ELECTRONICALLY CONNECTED AS A PART OF A LISTED CENTRALLY MONITORED OR SUPERVISED ALARM SYSTEM; OR
(II) CAPABLE OF SENDING AND RECEIVING NOTIFICATIONS BY:
1. A LOW–POWER RADIO FREQUENCY WIRELESS COMMUNICATION SIGNAL; OR
2. A WIRELESS LOCAL AREA NETWORKING CAPABILITY;
OR
(2) ANY OTHER DEVICE THAT THE STATE FIRE MARSHAL DESIGNATES AS EXEMPT THROUGH THE REGULATORY PROCESS.