7.22.21 – CEPro
CEDIA Expo 2021's home theater exhibits will feature new exhibitors like Perlisten Audio and Hangman Products, plus numerous returning brands like Cineak and Wisdom Audio.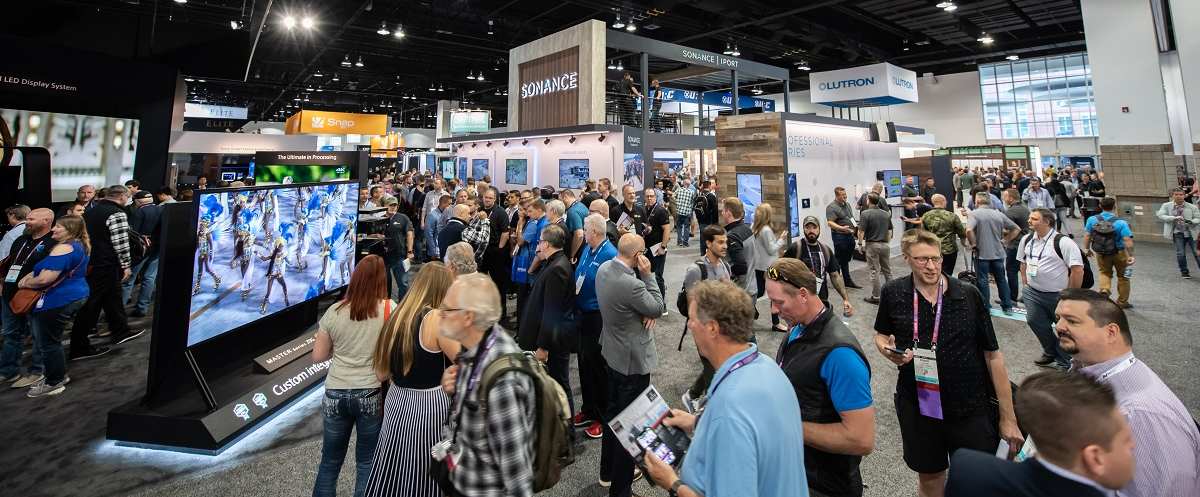 CEDIA Expo's return to in-person home theater exhibits will feature both new and returning brands that integrators should take some time to check out.
CEDIA Expo 2021, the global trade event where residential technology integration, designers and construction professionals connect, learn, and engage, will serve as the backdrop to a number of national and international brands making their debut at CEDIA Expo 2021, including a range of AV companies hosting their home theater exhibits.
In addition to these new brands making their CEDIA Expo debut, a number of prominent home theater manufacturers will also be returning to the annual event.
Home theaters are becoming increasingly popular once again. As more people invest in their entertainment spaces, new trends are also arising. These new and returning home theater exhibits will showcase the latest trends in home theater surround sound technologies such as immersive audio, as well as the latest video technologies, including 4K and HDR, and accessories that tie together home theater in residential environments.
The way homeowners integrate home theater in their homes today is much different than the home theaters of the 1990s and early 2000s. Private cinema/dedicated theaters are back strong, along with multipurpose room home theaters, and these systems use a variety of products and technologies.Related: CEDIA Expo and IMCCA Partner to Bring Education to Annual Trade Event
Supporting the variety of home theater exhibits, the CEDIA Expo is also offering events such as its hot ticket session on the Smart Stage, sponsored by Samsung. Through the exhibits and and educational sessions professional integrators will be able to learn how to position their businesses as a go-to resource for both projector and TV-based viewing, and they will be able to learn about the latest media servers, components, and peripherals ranging from acoustic treatments to seating to interfaces.
New Home Theater Exhibits at CEDIA Expo 2021
Hangman Products: Booth #3336
Hangman Products is a U.S. manufacturer specializing in innovative hanging solutions since 1999. The company emphasizes that its focus is on making the products easy-to-use, as well as safe and secure. In 2016, the company introduced its first AV product: the "No Stud TV Mount." In addition to the company's line of TV mounts, Hangman Products now offers Smart Shelves, Floating Sound Bar Shelves, Sound Bar Hangers, Speaker Hangers, and Cord Management Racetrack solutions.
Perlisten Audio: Booth #3131
Perlisten Audio is a new audio brand focusing on high-end 2-channel, home theater, and immersive audio applications. The company's speakers focus on in-room and architectural speakers that are held to the highest standards with many advanced features. Prelisten is in the United States with a worldwide footprint.
Severtson Screens: Booth #4416
Severtson Screens is a global manufacturer of projection screens. Having celebrated its 35th anniversary, the family's extensive technology and experience continues to provide screens for amusement park dark rides, the largest cinemas, home theaters, and everything in between. With three Arizona-based production facilities and the company's state-of-the-art robotic application system, Severtson has massive production capabilities that provide customers with screens of all kinds, shapes, and sizes.
Returning Brands at CEDIA Expo 2021
CINEAK: Booth #4204
CINEAK is a manufacturer of luxury entertainment seating. CINEAK designs and manufactures solutions for homeowners' living rooms, theaters, media rooms, and it also offers lounge seating products, which are handcrafted in Belgium.
CinemaTech: Booth #3318
CinemaTech is known as the industry leader in theater design, acoustic treatments, theater seating, and sofa seating. The company points out that someone cannot watch a major motion picture, attend a sporting event or read the wall street journal and not see a CinemaTech client. With showrooms in Dallas, Los Angeles, Denver, and Fort Lauderdale, CinemaTech"s seating is available across the country for clients to "test drive" at their convenience. CinemaTech designs theater/media/screening/multi-purpose rooms of all shapes and sizes and creates over 100 theater designs a year for the most discerning clientele.
MBL Akustikgeräte: Booth: #SR-13
MBL Akustikgeräte has been manufacturing high-performance audio systems since 1979 at its state-of-the-art factory in Germany. The company's proprietary "Radialstrahler" omnidirectional loudspeakers are engineered to cast 3D sonic images, as if the sound were live, and captivate for multichannel theater or Stereo music. MBL also manufactures three lines of audio electronics. The company can be found in Sound Room 13 (SR13) conducting active demonstrations.
Wisdom Audio: Rooms #2507
Wisdom Audio designs, engineers, and manufactures high-performance loudspeaker systems that incorporate advanced thin-film planar magnetic technologies. The company's product portfolio features a selection of home theater, music, and architectural audio solutions for in-wall, in-ceiling, on-wall, shelf, and floor applications. At the show as part of its home theater exhibit, Wisdom Audio will be introducing four new products that are engineered to demonstrate the superior performance of the Wisdom Series Line source speakers in an Immersive 13.7.8 dedicated Theater. Show attendees can visit Wisdom Audio in Rooms 401 and 402 of the High-Performance area and experience the company's immersive audio technologies.
ABOUT THE AUTHOR
Bob is an audio enthusiast who has written about consumer electronics for various publications within Massachusetts before joining the staff of CE Pro in 2000. Bob is THX Level I certified, and he's also taken classes from the Imaging Science Foundation (ISF) and Home Acoustics Alliance (HAA). Bob has also served as the technology editor for CE Pro's sister publication Commercial Integrator. In his personal time beyond his family, he's studied guitar and music theory at Sarrin Music Studios in Wakefield, Mass., and he also studies Kyokushin karate at 5 Dragons and Brazilian jiu-jitsu at Binda Brazilian Jiu Jitsu.
View Robert Archer's complete profile