7.10.19 – CEPro –Julie Jacobson
New wellness-related categories are entering the smart-home channel via CEDIA Expo, showcasing IAQ, water purification, hydrotherapy, HVAC zoning and more.
Health and Wellness is heating up as a channel-centric category for CEDIA Expo 2019. There will be demonstrations of biophilia and biodigitry like never before, with at least two dozen exhibitors showcasing human-centered (circadian) lighting, indoor air quality, water quality, hydrotherapy, simulations of the sounds and sights of nature, and complete ecosystems with all the elements.
Circadian lighting at Expo will be on full display – it's been growing every year – but some of the other wellness-related tech providers are starting to take a look at us now.
Here are a few of those providers.
---
Brondell | Purifying Water & Air
Touting "a healthy home experience," Brondell just might be the first air purification and water filtration company to exhibit at a CEDIA Expo, but the this is just the beginning of a big movement in the home-technology channel.
About 20% of integrators say they're highly interested or already implementing indoor air quality systems (IAQ) compared to 25% for human-centered (circadian) lighting. With the big push by Delos in the channel – touting healthy lighting, air and water, among other things – we should expects others in these categories to follow.
Brondell makes the Halo HEPA Air Purifier ($229 retail) and Revive True HEPA Air Purifier and Humidifier. The company also makes a variety of water-filtration systems including the Circle reverse-osmosis (RO) under-counter system ($349) touted as "10x more efficient than conventional RO systems for cleaner water and less waste."
There are also lots of bidets in many styles, including a version for travel, as well as education on the healthfulness of such products. Read, for example, "How to Heal Hemorrhoids Fast."

---
Kohler | Happier Bathrooms
You probably know Kohler as a premier kitchen-and-bath hardware manufacturer, but maybe never slotted them into the "wellness category."
In fact, their products cover a huge array of biophilically inspired technology for improving physical, mental and emotional wellbeing: colored lighting, audio, steam, aromatherapy, purified water, and more.
At the International Builders Show earlier this year, the company was promoting its Konnect line of products, which "have the ability to transform your bathroom using light, sound, color and water," the company says.
Kohler's hydrotherapy bathtubs "harness water's natural ability to enhance well-being," according to the company, "so you feel centered and energized–your best self. The technology behind hydrotherapies combines air and water or sound and water to address specific areas of the body as well as provide a full-body experience."
Kohler also makes steam generators to "turn every shower into a soothing spa experience."
The appropriately named Invigoration Series provides several well-chronicled health benefits of steam:
Bathers have long recognized and enjoyed the benefits of steam. Exposure to steam is a great way to soothe aching muscles, and the steam-generated sweat naturally draws impurities out through the pores. Steam can also target congested nasal passages, and, of course, it is a great way to relax and de-stress.
In addition to Kohler's spa-like bathroom luxuries, the company provides water filtration systems that it "effectively reduce harmful chemicals and contaminants including lead, chlorine, PFOA/PFOS and pharmaceuticals to ensure your water is clean down to the last drop."
Kohler provides traditional under-the-sink water filtration systems but also offers the Aquifer shower filter to block excess chlorine, which "causes skin irritation and strips your hair of its natural oils," Kohler claims.
Plus, this shower filter "ensures your hair stays soft and healthy."
But seriously, check out Kohler's Konnect Smart Home bathroom products at CEDIA Expo. Your clients will thank you.
---
Loctek | You Ergo Girl!
The health benefits of sit/stand desks are well documented: reduction of sedentary time by more than three hours per week; increased sense of well-being; decrease in fatigue and appetite; 50% greater productivity; improved weight maintenance …. To be sure, deleterious impacts exist as well, but we do know one thing: Sitting on your rear all day is not a healthy endeavor.
Loctek is exhibiting their ergonomic wares at CEDIA Expo this year, including sit/stand desks and desk bikes, because "we believe there's a healthier way to work," the company. "We're passionate about transforming the conventional work space into an active environment that supports wellness and productivity."
I tried Loctek at CES 2018 and look how productive I am. You can try it at CEDIA Expo 2019.
---
TiMotion | Automated Actuators
TiMotion is another CEDIA Expo exhibitor to showcase motorized furniture. The company touts motorized desks ("No smart home is complete without an office with a sit-stand desk"); sofas and lounge chairs ("Home furniture actuators make it possible to move with ease until perfectly comfortable"); office chairs ("Easily adjust to a safe and comfortable seating position"); beds (such as those "commonly found in healthcare facilities"); even kitchen counters.
But they don't make the end products. Instead they make a huge range of actuators and controllers that enable motorization and automation of everything from window coverings to pergolas to TV lifts. Think of them as the Somfy for motorized furniture.
Home technologists are bound to geek out over this stuff. Here's TiMotion's blog on "The Role of Electric Actuation in Smart Homes."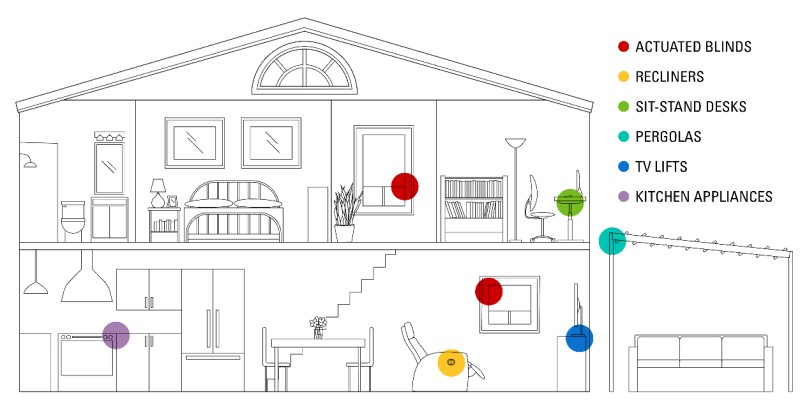 ---
Airzone | Zoned HVAC
It's been a good long while since we've seen a robust zoned HVAC system hit the CEDIA channel. Now here comes Airzone, which makes a full suite of HVAC zone controls for single-family homes on up to large commercial offices.
What does HVAC zone control have to do with biophilia? With nature itself? Plentiful research indicates that thermal comfort can improve productivity and moods.
More than that, individual control of one's own temperature (and lighting conditions) contributes to comfort and productivity in the workplace. And what better what to achieve that than through zoned HVAC systems?
But if you can't have zoned HVAC? You can always get the Embr Wave bracelet from Embrlabs: "Experience thermal comfort on demand."