2.2.23 – Fox News 
One of the thieves was captured on camera falling into a pond in the California home's backyard
A group of thieves were caught on security video breaking into a California home, with one suspect ringing a doorbell as they fled with thousands of dollars worth of stolen items.
The burglars were captured on camera around 7:25 p.m. Tuesday at a home in the San Francisco suburb of Danville, FOX San Francisco reported. They were seen scouting the backyard when one of them fell into a small pond.
Another video from a different part of the home shows the group fleeing through the front door. One suspect is heard telling his partners to "Come on, come on, come on" before pressing the doorbell.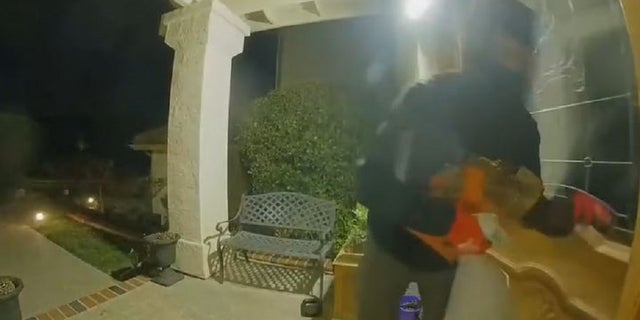 A group of thieves in California broke into an empty home this week. One of them rang a doorbell to apparently say 'we got you," the homeowner said. (Fox San Francisco)
They made off with cash, jewelry, sunglasses, and bags worth hundreds of thousands of dollars, FOX San Francisco reported.
"It was dark, and they surveyed the house from backyard to see if anyone was home before breaking slider," the homeowner said.
The home was empty at the time of the burglary. The victim said the intruders rushed out the front door and rang the doorbell to apparently say "we got you," they said. The thieves fled in a BMW X5.
A home burglar in California is seen falling into a small pond just before breaking into the house. (FOX San Francisco)
"I just feel like they're pretty brazen to go in, not knowing if people are in the home or not, and I feel like it's a dangerous situation," the victim said.
On Thursday, the Danville Police Department said they were still looking for the suspects. They did not release any additional information.