3.22.19 – CEPrO – Jason Knott
The video doorbell camera has quickly become a ubiquitous product category offering for integrators, but which states have the highest risk of having a package stolen from their front porch?
A recent study by U.S. Packaging & Wrapping, LLC, a full-service packaging company based in central Arkansas, reveals which states have the highest risk of "porch pirate" theft per capita based on Google searches.
The surprising results revealed that the state of Wyoming has the highest rate of Amazon package theft from front porches in the nation. That is surprising because according to the most recent FBI Uniform Crime Report, Wyoming's larceny rate fell 6.5 percent in 2017.
On the flip side, Mississippi had the fewest porch package thefts of any state. California had the most thefts by far, but the state's huge population enabled it rank as the third-worst state for porch theft.
Related: Top 50 Cities for Amazon Package Theft
Also, December, followed closely by November, are the months with the highest rate of theft. That is not surprising, since UPS alone reported delivering 750 million packages during the holiday season this year, up from 500 million five years ago. The safest month to send a package is May.
The study speculates that May is the safest month because people are starting to spend more time outdoors as the weather improves and simply make fewer online purchases.
The data is good information to use with clients who might be considering a doorbell camera for the first time, or a possible professionally installed upgrade.
Integrators should consider marketing outreach to their clients prior to the months with the highest theft rate.
The most popular video doorbell cameras used by integrators are Amazon Ring, DoorBird, SkyBell, Control4 and Channel Vision. Nest, August, Olive & Dove's Remo, Clare Controls and others also have units on the market.
As integrators know, front porch package theft has become a widespread problem as online buying as exploded. Previously, a study by Ring revealed that nearly one in five households (19 percent) have been a victim of package theft.
5 Worst States for Porch Pirate Theft
The five worst states for porch pirates are:
Wyoming
Vermont
California
Massachusetts
Alaska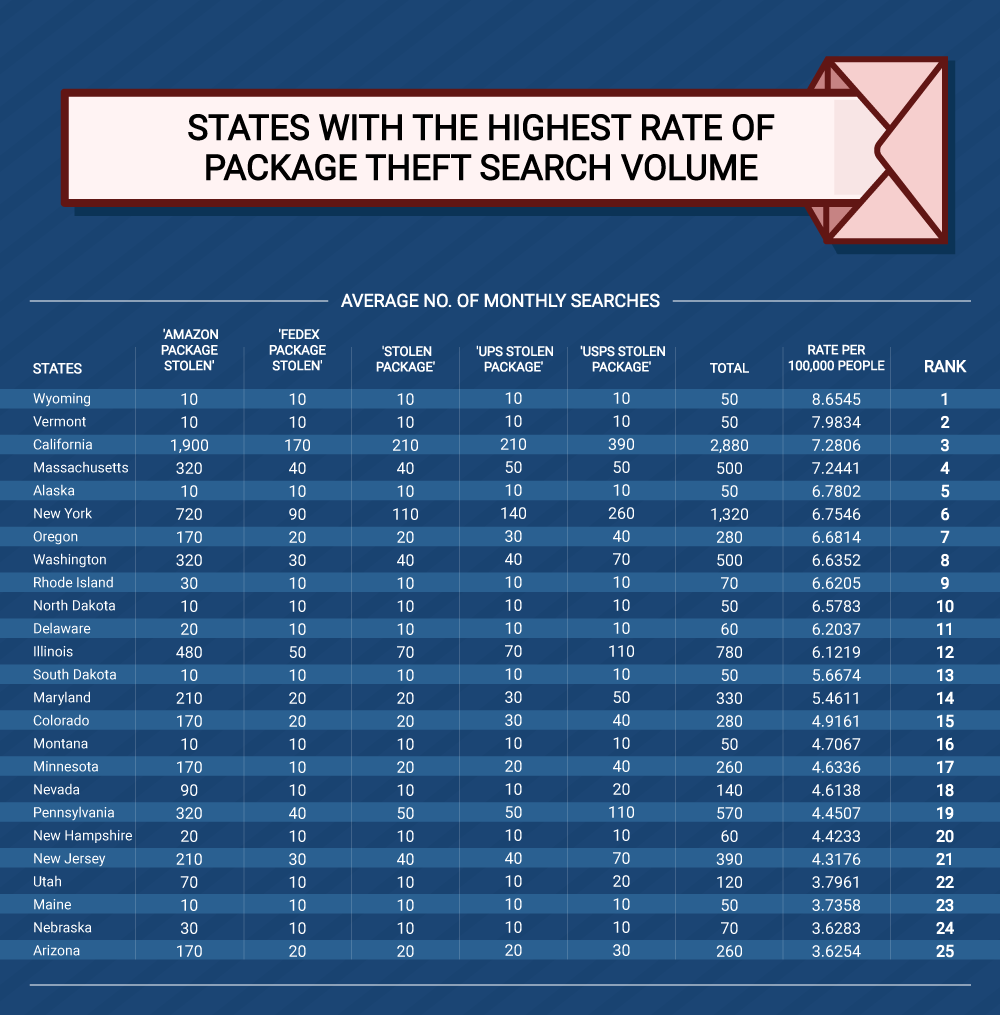 5 Best States for Porch Pirate Theft
The top five best states with the least amount of porch thievery are:
Mississippi
Alabama
South Carolina
Arkansas
Kentucky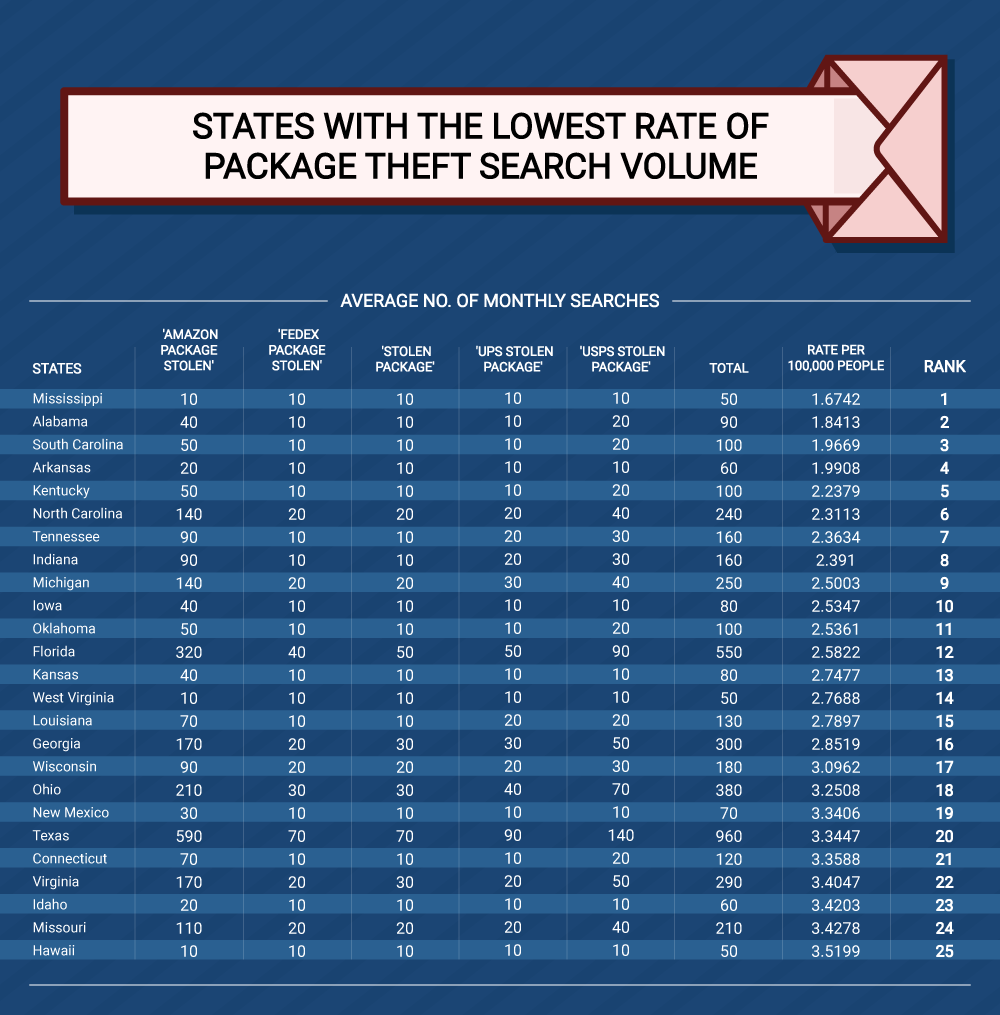 Worst Months for Porch Package Theft
As noted, the holiday season is the worst time for front porch packages to be stolen, while the spring is the safest time for integrators' clients to get packages delivered.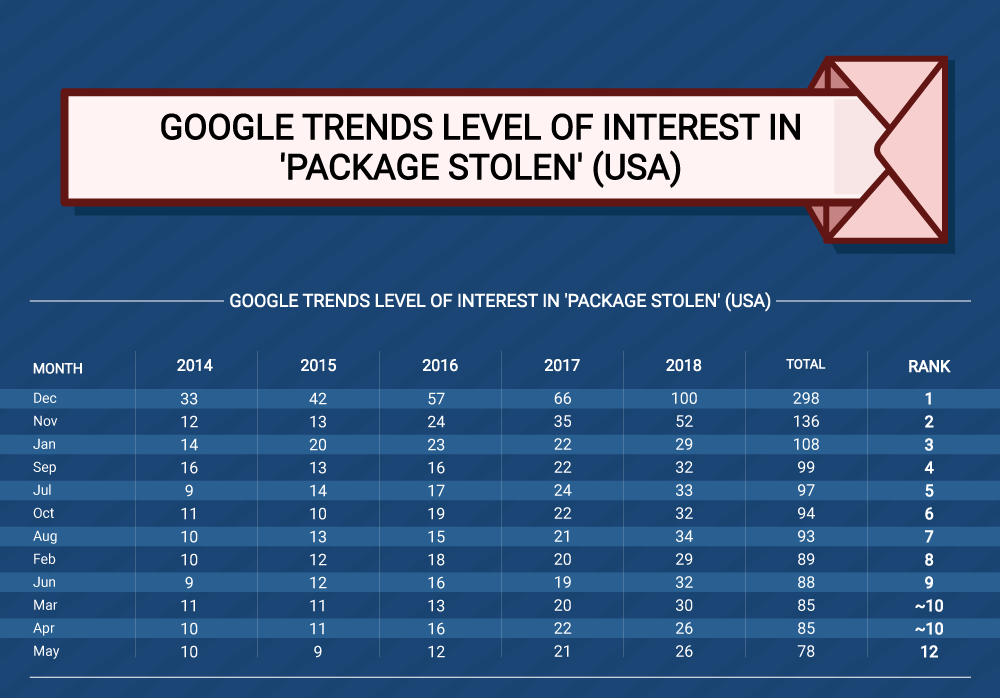 The methodology behind the ranking was analyzing the number of Google searches conducted. The company looked at the volume of searches for terms such as:
"stolen package"
"amazon package stolen"
"usps package stolen"
Those monthly search figures were then divided by per 100,000 population.
To determine the best and worst months, the study analyzed searches from January 2014 through December 2018.