Third inmate dies at prison infirmary, death not believed to be COVID-19 related; autopsy requested, officials say
May 2, 2020 at 1:36 PM CDT – Updated May 3 at 4:01 PM
LITTLE ROCK, Ark. (KAIT) –
State officials announced Sunday that two additional inmates at the Arkansas Department of Corrections have died due to COVID-19.
The Arkansas Department of Corrections released details about the deaths in a Twitter post Sunday.Arkansas Department of Corrections@ADCPIO
The Division of Correction is announcing additional inmate deaths. Two of the deaths being ported today are inmates who were being treated for #COVID19 related symptoms. All families have been notified. Click below for more details: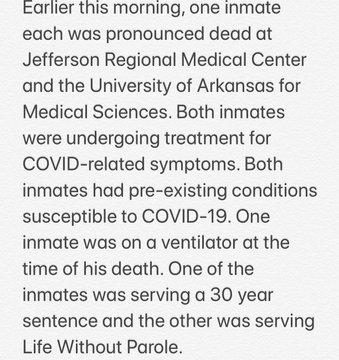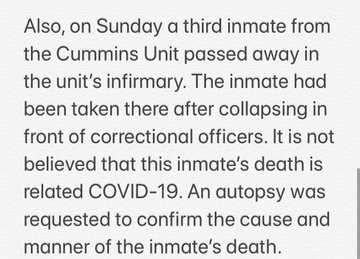 Twitter Ads info and privacySee Arkansas Department of Corrections's other Tweets
Officials said in the post that one inmate each was pronounced dead at Jefferson Regional Medical Center and UAMS.
"Both inmates were undergoing treatment for COVID-related symptoms. Both inmates had pre-existing conditions susceptible to COVID-19. One inmate was on a ventilator at the time of his death. One of the inmates was serving a 30-year sentence and the other was serving life without parole," the post noted.
Officials also said a third inmate also passed away at the Cummins Unit infirmary.
"The inmate had been taken there after collapsing in front of correctional officers. It is not believed that this inmate's death is related to COVID-19," the post noted. "An autopsy was requested to confirm the cause and manner of the inmate's death."
SATURDAY
The state of Arkansas has seen a steady decline in the number of COVID-19 cases in the past two weeks, officials said this weekend as new deaths were reported Sunday.
Gov. Asa Hutchinson and Dr. Nate Smith, secretary of the Arkansas Department of Health, updated the public during a 1:30 p.m. press conference Saturday at the Capitol on the state's response to the coronavirus, including the latest cases of COVID-19 and deaths.
As of 1:30 p.m.. Sunday, May 3, the state has seen 3,431 positive cases of COVID-19, with 76 deaths and 1,999 recoveries. Of those cases, 1,312 are active cases while 100 people are in the hospital and 20 people are on ventilators, officials said Saturday.
Dr. Smith said 233 nursing home residents and 145 workers have tested positive; and of the 73 deaths, 28 are in the state's nursing homes. Smith also said there were investigations ongoing at 40 nursing homes around the state.
State health officials also did not name any of the people who died Friday, Saturday or Sunday as a result of COVID-19. However, officials did answer some questions Saturday about the inmates who died.
Both of the inmates were in their 60′s and had underlying health and medical conditions, Smith said.
The inmates were being held in the Cummins Unit at Grady in Lincoln County.
Arkansas prison officials released more details on social media Saturday about the deaths.
BENDING THE CURVE
Both Gov. Hutchinson and Dr. Smith spoke Saturday about work being done to reduce the number of positive cases in the state.
The state has seen a steady decline in new cases, as well as 7-day and 10-12 day numbers, but officials stressed that the numbers could spike at any moment.
Gov. Hutchinson said the state has taken a phased-in approach on lifting restrictions around the state, with announcements this week on barber shops and restaurants.
An announcement is expected Monday on houses of worship and larger venues around the state.
Smith said state officials are working on a PPE decontaminator project that will help clean masks around the state, within a 24-hour period.
Arkansas Department of Emergency Management Director A.J. Gary also said the supply chain for PPE's has started to open up and that there should be an adequate supply. Officials are working with the Arkansas Economic Development Commission on vendors to get a list to local chambers of commerce to help restaurants and restaurant employees get the masks.
Gov. Hutchinson said the state has also processed nearly 150,000 unemployment claims since the pandemic began. When asked by a reporter about the process, the governor said it can be frustrating to go through the system but he believes incredible work is being done.
Also, state officials plan to unveil an online system next week for people who are self-employed to file for unemployment benefits, Hutchinson said.
A media briefing was not held Sunday at the Capitol.
Watch online here >>
Copyright 2020 KAIT. All rights reserved.