3.21.19 – CEPro –Julie Jacobson
ADT Pulse replaced by 'dream' security and home-automation system ADT Command and Control, powered by Alarm.com, but ADT faces upgrade challenge for some 3.7 million customers due to 3G, CDMA sunset.
ADT (NYSE: ADT) has said goodbye to Pulse, the company's first fully integrated security and home automation solution, and the first big win for SHaaS (smart home as a service) provider Icontrol back in 2010.
Pulse had a solid eight-year run with Icontrol, garnering some 2.6 million subscribers, or roughly 40 percent of all ADT residential alarm customers.
Now Pulse is being replaced by ADT Command and Control, featuring an all new self-contained security and smart-home panel ('Command'), plus a new app and cloud-based platform ('Control') powered by Alarm.com.
The transition to Alarm.com didn't really make the news, but it's important. Alarm.com acquired Icontrol in 2017, and ADT agreed to move its SHaaS business to the new provider for at least five years.
At some point, Alarm.com would have to abandon the original Icontrol platform powering 2.6 million Pulse systems. But what would the transition look like?
At some point, Alarm.com would have to abandon the original Icontrol platform powering 2.6 million Pulse systems. But what would the transition look like? A flip-of-the-switch to convert existing ADT customers to the Alarm.com engine? Or a wholesale move to new hardware and system-wide architecture optimized for Alarm.com?
The two companies chose the latter approach with ADT Command — a new security and automation system built from the ground up to exploit Alarm.com's existing platform and technological roadmap.
That means Alarm.com must now maintain the original Icontrol platform to support existing Pulse subscribers for some time, while launching and nurturing a new platform for all new ADT Command customers.
Some 6,000 ADT Command systems have been installed already in select regions, but ADT plans to roll out the new solution nationwide by the end of the month. The panels are manufactured by Resideo, formerly Honeywell.
New ADT Command is 'Dream' Panel
ADT has never really offered an all-in-one panel that looks and operates like those of its competitors.
For several years, 2Gig, Qolsys, Interlogix, Honeywell (now Resideo) and others have offered self-contained systems featuring a full-fledged security system with home-automation capabilities, back-up battery, cellular and network radios, siren and touchscreen interface in a single box to be slapped on a wall by the front door.
Meanwhile, ADT Pulse initially comprised an Internet gateway added to a standard security system, with an optional touchscreen interface for monitoring and control. Today, the architecture is still employed with compatible alarm panels from Honeywell and DSC.
NEXT: ADT Ends Pulse, Adds Command & Control, Pauses Alexa Guard, Plots DIY
Eventually, ADT launched a self-contained panel called Total Security, which offered the fundamentals, but no touchscreen interface. Importantly, it was ADT's first offering with IP-based alarm communications (with cellular back-up).
Now ADT follows the herd with a touchscreen-enabled self-contained system. Significantly, ADT Command is ADT's first panel with dual-path IP/cellular communications, enabling the product to use the fastest communications method for any given alarm. ADT Pulse has never supported IP-based alarm communications, only cellular and POTS (plain old telephone service).
"Honestly, it [ADT Command] is almost the panel that dealers have always dreamed of," says Jacob Menke, founder of Utah-based Zions Security, an ADT authorized dealer.
VIDEO: Zions' Jacob Menke reviews ADT Command and Control
He tells CE Pro his company is "glad to finally have an ADT option that can almost compete" with modern-day alternatives.
In a blog post, Menke likens ADT Command to Qolsys IQ Panel 2 and Honeywell Lyric, both of which Zions offers to its clients.
Menke appreciates a few hardware features of ADT Command, like a front-facing camera on the touchscreen, which can snap photos of the user when a system is disarmed, maybe not at launch but eventually. (Was it actually the daughter … or her boyfriend?) The panel supports more sensors than previously, with two-way encryption to boot. It offers and supports more secondary keypads, as well.
And there's this: native Amazon Alexa in the panel, allowing users to issue security and automation commands by voice, or otherwise utilize the device for voice-activated services.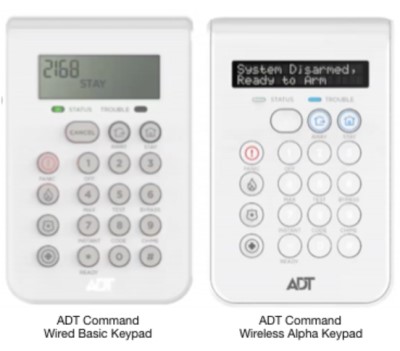 Menke says this is "one of the features that is different than any other security panel on the market."
He also provides some insight into what ADT is enabling today, and what functionality might be coming soon. Bluetooth disarming, which can occur when a user comes into range of the panel, has limited availability at launch, but will become "more available" in time, he writes. Commercial applications are coming. Up to eight motion viewers will be supported "eventually." Compatible outdoor wireless sirens will be available in May.
Also, ADT customers now will be able to take advantage of the full Alarm.com ecosystem and feature set, for example, integration with Apple Watch, Amazon Fire TV (controls and alerts on the TV screen), geofencing, multilanguage support and more.
"The new ADT Control platform will have nearly all the features that ADT Pulse has had with the addition of some new exciting ones," Menke writes in another blog. "The only feature that might be lost is the ability to have Home View, where you can put your devices on a floorplan display."
ADT launched the Home View app for Pulse in 2012, allowing users to view the status of all their connected devices, and interact with these devices from a floorplan view. That feature disappears with Command and Control.
2.6 Million Pulse Customers, 3G Sunset: Tough Conversion Ahead
Zions is one of the more progressive ADT dealers, diving right into the new Command system as soon as it became available on a limited basis. So far, the company has installed about six units.
Menke tells CE Pro that other ADT dealers are probably still installing Pulse systems, "as they are comfortable doing what they have always done."
It's only a matter of time, however, that "ADT completely cuts off new Pulse customers," but that's beside the point. Security dealers still selling Pulse systems are doing a "disservice" to customers by providing end-of-life equipment and a limited upgrade path, Menke says.
3G Sunset Sticker Shock
ADT says that more than half of its 7.2 million security panels use 3G cellular service today, mostly from AT&T, which sunsets the service in February 2022.
Let's say it costs ADT $200 in parts and labor to replace each radio (or panel). Multiply that by a conservative 3.7 million customers, and the bill could total some $740 million.
About 2.6 million customers already subscribe to Pulse, so ADT can't really expect to "upgrade" those customers to higher-revenue systems.
The security company hopes to use 3G as an upgrade opportunity for non-Pulse customers, and a takeover opportunity for non-ADT customers.
Of course, competitors will find takeover opportunities for ADT's 3G customers.
So how much life does Pulse have left, and is there a transition path for existing subscribers? We asked ADT, and the answer was something along the lines of: It won't be much different than any other migration of products or services.
Quite right. ADT will replace panels and upgrade services when it's time to do so for any given customer, or when Alarm.com shuts down the old Icontrol platform. The old Pulse systems won't work on the new Alarm.com platform.
A bigger issue has to do with the impending 3G/CDMA sunset, which will kill cellular service for millions of security panels that use cellular for their main alarm communications or for back-up if IP or POTS (plain old telephone service) fails.
A good chunk of ADT Pulse products utilize AT&T's 3G network, which sunsets in February 2022. Those products don't support IP communications for alarm signaling, so if the customer doesn't have a POTS line, their security service is dead … unless ADT replaces the radios at a substantial cost of time and labor.
Will ADT make an effort to swap out these radios in advance of the sunset – it's still three years away – and prolong the life of these legacy systems and the Icontrol platform that drives them?
Or will ADT move to replace the aging panels with Command and Control, and be rid of the legacy systems once and for all?
Neither solution is pretty, but it's the same conundrum facing the entire security industry, which could see millions of subscribers disappear when their cellular service dies.
In ADT's recent Q4 2018 earnings call, CEO Jim DeVries hinted that the company would use ADT Command as something of an alternative to 3G radio replacement … or a ballast for subscriber defections.
"[T]here is an aspect of the 3G sunset that we're viewing as opportunistic for ADT."
— Jim Devries, ADT CEO
In addition to attracting new customers in general, he said, the new Command and Control solution would "also serve as a central piece of our upgrade strategy with current customers using legacy systems."
More than half of ADT's 7.2 million customers are using 3G today, he noted. As with other security providers, ADT would have to spend a small fortune in labor and materials to physically replace these radios at their customers' premises – perhaps $200 to $250 per customer (our estimates, not his). Multiply that by 3.7 million or so customers … yikes (see sidebar).
Now, if they could upgrade their non-Pulse customers to the new interactive security and home-automation platform, they could mitigate the potentially huge losses from truck rolls and lapsed accounts, and appease queasy investors.
Not surprisingly, then, "a central part of our strategy will be to offset the expected one-time radio replacement cost with the recurring benefits of upgrading a substantial portion of our customer base to our latest technology in security and smart home innovation," DeVries says.
Ultimately, ADT is treating the 3G sunset as an upgrade opportunity, rather than a 3G-replacement burden, he explains. Plus, the fact that mom-and-pop security dealers and "even our traditional competitors" won't be able to switch over their existing customers, "there is an aspect of the 3G sunset that we're viewing as opportunistic for ADT."
He acknowledges the company is still weighing the options but assures investors "we'll update you with our assessment and plans as this process evolves."
In any case, ADT and others in the security industry have learned their lesson regarding cellular sunsets. The Command panel is modular, so consumers can swap out cellular radios themselves, and dealers can perform firmware upgrades without a truck roll.
We wonder if Pulse subscribers are included in the group of "current customers using legacy systems," and how long ADT is willing to prolong the agony of supporting two separate hardware and SHaaS platforms.
Features of ADT Command and Control vs. ADT Pulse (Source: Zions Security)
The new system will have some of these features that ADT Pulse has been lacking:
7″ touchscreen all-in-one
Z-wave Plus
Panel Camera
Bluetooth disarming when user is close to keypad (limited initially but future updates will make this more available)
LTE cellular radio, user-replaceable
Encrypted alarm sensors for added security and increased wireless range 2.5x further
Built in how-to videos
Dual Path Communications for alarm reporting and easier updating of new firmware (cell required, Wi-Fi optional)
Ability to add more than 10 Wi-Fi cameras
3 partitions
Residential or Commercial use (commercial use still yet to be released)
128 Wireless security zones
232 Z-wave devices (but a max of 5 thermostats and door locks)
8 Secondary Keypads
8 Motion Viewers (eventually after future updates)
32 keyfobs – 8 Functions on one zone
96 Users
Hybrid Version that has 200mA aux output, Ethernet port, 8 hardwires zones, 2-wire smokes in zone 1, 600mA siren Output up to 2Amp, 2 trigger outputs 100mA each, and a plastic housing.
Multi language support – English, Spanish, French
Onscreen control of Z-wave Smart Home Devices
2-Way voice over cell
Crash and Smash feature
Embedded Amazon Alexa Service
Disarm snapshots can be sent to users phone (available in the future updates)
See video on Apple Watch
Video Package includes ability to have 8 cameras and 6000 clips before additional upgrades are needed
Indoor Wireless Siren that can do chime like the keypad and show arm/disarm light
Outdoor Wireless Siren coming in May
It is compatible with older z-wave and wireless security sensors, though it needs a module to translate.