1.12.23 – SIW – Amy Musanti
The emerging market of sustainable workspaces and buildings may prove to be a game-changer for savvy integrators.
Those of us who have been paying attention to the global discussion know that climate change is real and that the need to do whatever it takes to mitigate its impact is vital and urgent. No longer is sustainability viewed as a fluffy buzzword or a nice-to-have environmental aspiration; nor is it being thrown around like it used to be in some organizations' greenwashing, virtue signaling statement.
Today, sustainability is serious business. This is especially true for the built environment, where the appetite for sustainable materials is high and more companies, institutions, and organizations now have ambitious programs in place to help reduce their carbon footprint and greenhouse gas emissions.
According to a 2021 Forbes market report, 47% of engineering and construction executives surveyed worldwide believe sustainability is a key priority or major concern. In fact, the market for certified green buildings is expected to expand at a faster pace than the construction market in general.
This means the doors to more opportunities remain wide open for those who want to be part of the green building initiative, from architects and general contractors to security integrators and beyond.
Rethinking Spaces
Along with new buildings going up and renovations underway, consider how sustainability fits in with today's hybrid workforce and the current rethinking of the workspace. Companies are reassessing how employees need to use the office, and how little or how much square footage might be required. What will reconfigurations look like? Should they include more energy-efficient doors, windows, and walls, sustainable access control solutions, and better building management systems?
Colleges and universities across the U.S. continue to build new halls and research centers and are one of the most active sectors behind ambitious sustainability programs today. New mixed-use commercial/residential/hospitality/retail complexes are on the rise, with sustainability attributes, walkability, and wellness top of mind.
As a result, demand for products that promote energy efficiency, environmental, and material transparency is accelerating. That's why the architectural/design community, building industry, and end users alike are focused heavily on sourcing the most knowledgeable partners with the most sustainable solutions to help them develop safer, healthier, and more efficient work, play, learning, and living spaces.
Gaining a Sustainable Competitive Edge
Security professionals invested in sustainability success are among these highly sought-after resources, especially consultants and integrators specializing in door security solutions that are so essential for the many openings in buildings. It makes sense, then, that those most attuned to sustainability and who keep honing their expertise surrounding the latest developments and products are the ones who stand to gain the greater competitive edge.
Consultants and integrators well-versed in sustainability, for instance, have the extra opportunity to educate their customers on the efficiency benefits of electronic access control (EAC) products that reduce power consumption and re-use existing infrastructure. Or they might identify a customer need for a sustainable automatic door opener that generates and stores its own power.
The potential to highlight and propose sustainable solutions like these that are more cost-effective and offer greater ROI are the kind of things that win more projects and build stronger reputations. They're also a small example of how sustainability is not only serious business but also good for business.
Why Product Ingredients and Third-Party Certifications Matter
A very progressive network of customers helps to drive companies like ours to make advancements in sustainability, and that includes integrators and dealers as well as architects and end users. We love to encourage them to think differently about what contributes to a secure and sustainable built environment. The good news is they can have security, sustainability, and convenience without sacrificing one over another.
Many building products are obvious choices for sustainability – HVAC, lighting, etc. But sustainable door security solutions may not be so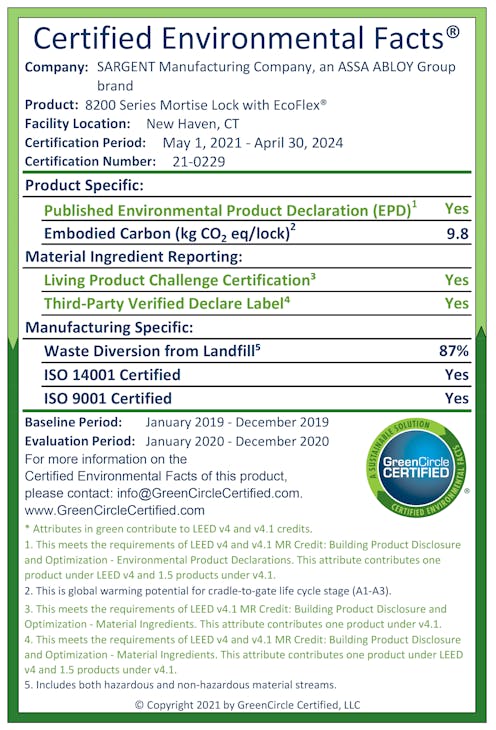 immediately apparent.
Therefore, developing sustainability acumen needs to include an understanding of which door and hardware products qualify, and why the ingredients and processes that go into them matter.
How a manufacturer backs up its claims about sustainability also matters, especially when the attributes of a product aren't clearly recognizable. Third-party certification is the most effective way to pass that test. It is one of the reasons door security integrators and providers look to manufacturers that have sustainability programs of their own that put products through rigorous independent testing.
While we pride ourselves on being completely transparent about product energy efficiencies, recyclability, reusability, and embodied carbon reduction, we understand it's not enough for customers to simply take our word for it. That's why we enlist third party organizations like GreenCircle Certified to audit and validate our claims, and seek Environmental Product Declarations (EPDs), Health Product Declarations (HPDs), and Declare Labels to reinforce transparency and build trust.
EPDs and material ingredient reporting through HPDs and Declare Labels contribute to LEED (Leadership in Energy and Environmental Design) points. EPDs show the entire life cycle of a product and factor in, recyclability, and reusability. HPDs look at the potential health hazards of a product by comparing ingredients to a set of priority lists. They also help products qualify for WELL and Living Building Challenge certification – important factors for end-users striving to keep occupants of their buildings healthy and happy.
These documents are what end-users, architects, integrators, and contractors truly care about and depend on to readily identify the best sustainable door and door hardware materials for their projects. They want to know they're working with a manufacturer that takes a comprehensive approach to its full product lineup – from the impacts of raw material extraction, transportation, and manufacturing to packaging, installation/use, and product end of life.
Whether it is the sustainability of a door lock, electric strike, automatic operator, or access control card reader, or whether specialty doors feature insulation with no harmful chemical off gassing, all these considerations factor into the choices that are leading us to better green built environments.
Leading the Way
Higher education and the U.S. government are two of the biggest sectors today charging full steam ahead with ambitious energy reduction and footprint reduction goals for the many buildings they're planning across their wide landscapes. Other institutions, businesses, and facilities are following suit, albeit at different scales.
All have a massive number of openings that will require door security products designed to promote energy savings, take less labor and materials to install, feature more compact profiles – solutions that are made more efficiently with safer ingredients, recyclability, and reusability fully in mind. Add in the increased demand for sustainable aesthetic design and energy-conscious deliveries, and you see how much potential there is for everyone involved – systems integrators and other security specialists included.
Further evidence of the growth of sustainability programs has shown up in the increasing number of large and mid-sized companies that have committed to the ambitious Science-based Target initiative (SBTi). Granted, SBTi may not be practical for every business, and non-participation won't dampen the necessity and energy behind robust sustainability programs on tap or already in place. But with more than 2,000 companies now committed to SBTi and taking company-specific action to further reduce greenhouse gases, this is very positive news for paving the way to a low-carbon future.
Resilience
Complementing sustainability is the expanding emphasis on resilience – the ability for organizations, buildings, and their occupants to rebound successfully from storms, fire and other forces that can impact lives and livelihoods.
Customers from all sectors are more focused than ever on the safety and wellness of those they employ, teach, heal, and house within their walls. Ensuring facilities are built with materials made with sustainable healthier ingredients, extra durability, and extended lifecycles will go a long way in helping businesses and institutions bounce back stronger than ever. Just like sustainability efforts and science-based targets are helping our planet to do.
These are golden green opportunities we should all seize.
Amy Musanti is Director of Sustainable Building Solutions for ASSA ABLOY Opening Solutions Americas. Request more info about the company at www.securityinfowatch.com/10212899.