1.7.20 – CEPro – Industry withstands 2020 chaos as a beacon of strength with 11.5% revenue growth. 2021 outlook is strong.
What a long, strange trip it's been. No doubt, the Grateful Dead's famous 1970 lyric perfectly describes 2020 for the custom electronics industry. Indeed, integrators kept "truckin'" along in 2020 amid the chaos with 11.5% growth and remarkable resilience, according to the CE Pro 2021 State of the Industry Study.
The pandemic added jet rocket fuel to some trends that were already well underway, such as the need for enterprise-grade home networks for streaming entertainment and work-from-home/distance learning scenarios. But the COVID-19 situation giveth and taketh away — the pandemic threw a giant wet blanket on other trends that were promising heading into 2020, such as corporate office and bar/restaurant projects.
When all the dust settled, integration companies emerged from 2020 as a sheltered oasis of strength and they head into 2021 with a spur of energy and importance never before experienced in the annals of the industry.
Integration companies were deemed "essential" workers by the federal government when the coronavirus hit, and that designation was proven to be spot-on. Without custom integrators providing the backbone in the home for connectivity and entertainment, homeowners would have suffered much more than they might have already from this scourge. Perhaps the only other industry that fared better during the past 12 months are the companies that make surgical masks.
The data from this year's study bears that out. The median revenue for a custom installation company in 2020 was $1,363,363. That represents an 11.5% growth from 2019, during which the average integrator had a median gross revenue of $1,222,222. For just the second time ever, CE Pro had conducted a mid-year market report in 2020, gauging growth rates through the end of July. At that point, integrators had increased revenues by 9%, so clearly the growth trend continued for the rest of the year.
Parsing out that total median revenue figure of $1,363,363 in 2020, $928,125 (or 68%) comes from residential installation revenue (both equipment and labor) on a median of 55 projects; $233,750 (or 17%) comes from commercial installation revenue (both equipment and labor) on a median of 11 projects; and $201,458 (or 15%) comes from ongoing service or monitoring revenues. That service revenue represents just over a 1% increase from last year and equates to $16,790 per month in RMR.
For the first time ever in the CE Pro State of the Industry Study, the price points for commercial and residential installations were broken out. In 2019, dealers reported a combined residential/commercial median installation price point of $21,266. For 2020, the median installation price at end-user level for a residential project was $16,875, while the median price point for a commercial project was $21,250.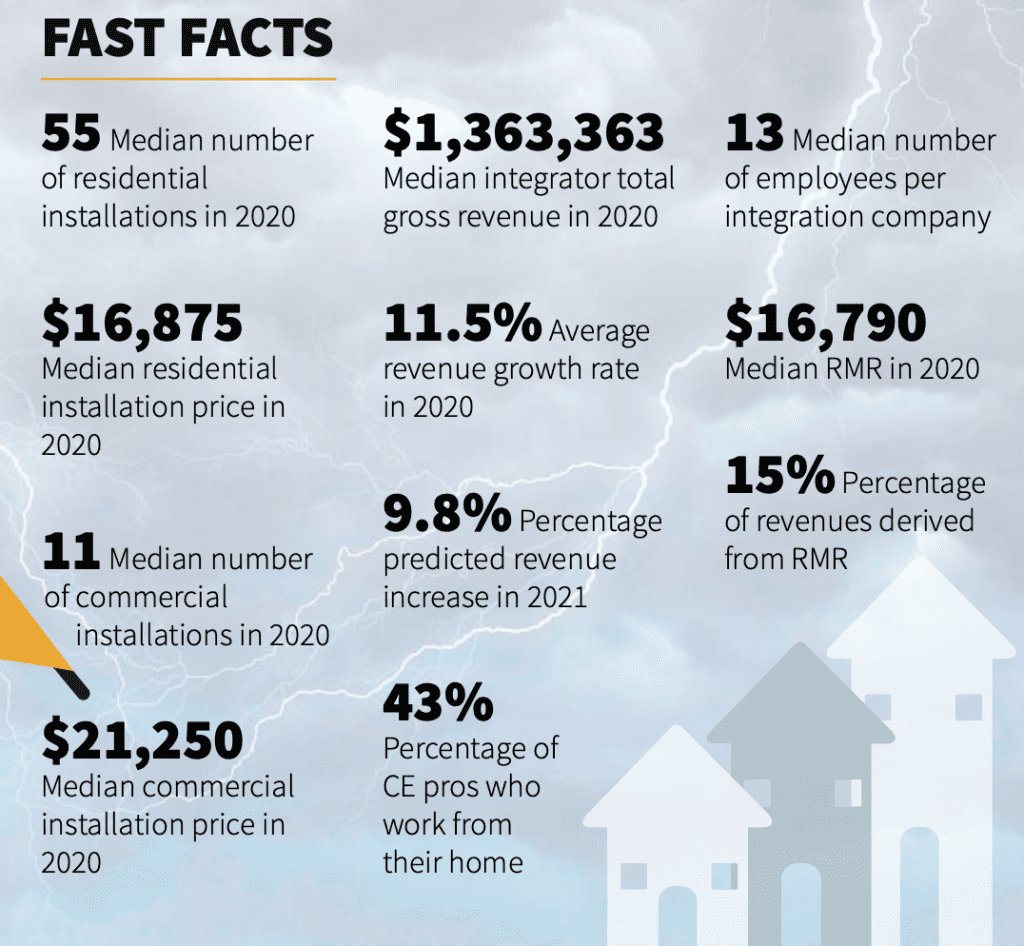 Heading into 2021, CE pros remain optimistic. Dealers are expecting to continue to grow revenues at a strong clip, with a predicted growth rate of 9.8% for the year. That is despite the clear slowdown in commercial installations due to the pandemic that occurred in 2020. Installations for corporate boardrooms, along with bars and restaurants, virtually halted in 2020.
However, with vaccines due to be out and deployed widespread by the spring, integrators are likely anticipating a strong return to certain commercial market niches, namely bars and restaurants. Corporate boardroom work might be a bit more subdued as the work-from-home (WFH) trend will likely continue for years to come, but many offices might look to abandon the "huddle room" design influence in favor of more old-school cubicle setups, which might require the need for new teleconferencing and unified communications equipment.
In general, integrators are an overly optimistic bunch. Even during the Great Recession and housing meltdown, dealers were predicting growth, despite the fact that in 2009 the average custom integrator's revenue fell by more than half. Heading into 2020, dealers were anticipating a growth rate of 8.8%. It seems the pandemic gave dealers' revenues a "shot in the arm" (pun intended) that inoculated them from the ravages of COVID-19.
'Tough Get Going' During Pandemic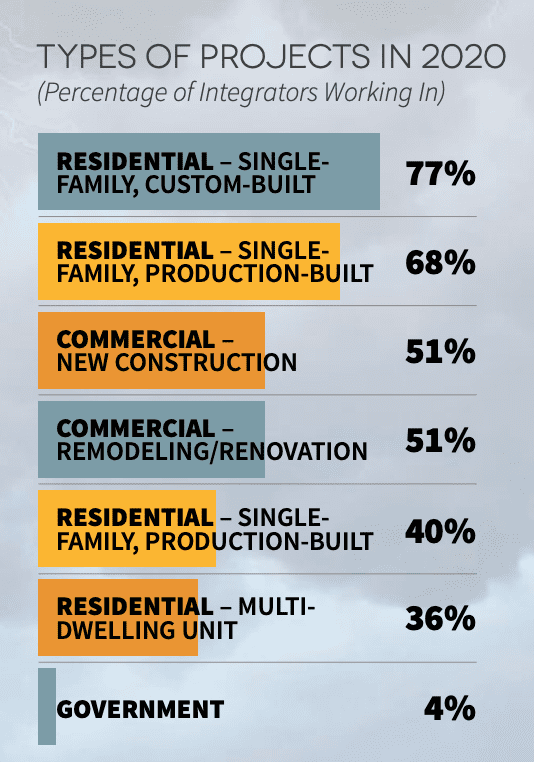 So how did integrators respond when the crisis hit? The old saying "when the going gets tough, the tough get going" certainly is apropos. Remarkably, only one in four integration companies (25%) reduced staff during the pandemic — even temporarily. Moreover, 70% of integration companies did not furlough a single employee during the crisis
For most integrators, there were no cutbacks at all. Three-quarters of dealers (75%) say they did not even reduce staff hours during COVID-19. Also, 71% of dealers never stopped working at all; there was no pause in business activity whatsoever.
In a major shocker, the median number of employees rose sharply in the survey, from eight employees in 2019 to 13 in 2020. CE Pro can only speculate that dealers have found good sources for new employees or have boosted part-time employee payroll perhaps.
When 2020 started, integrators were primarily focused on the growing diverse portfolios of their businesses. The percentage of commercial business being done by integrators who are normally focused on residential projects was growing rapidly. But when the pandemic hit, it greatly affected the mix of residential versus commercial business.
At first, many dealers reported an initial surge in commercial projects as end-users in offices and bars/restaurants saw the opportunity to get technology projects done during lockdowns while no one was in the place of business. But after that initial surge, the commercial market waned when end users realized the long-term detrimental effect on their businesses.
Meanwhile, homeowners were at first reticent to have tradespeople in their homes when the pandemic first hit, but when WFH and school-from-home solutions became the norm, that hesitation was replaced by the necessity for upgraded networking and entertainment systems.
Sources of Revenue Change
One area that has continued unabated in 2020 during the coronavirus outbreak has been new home construction. The latest figures from the U.S. Census Bureau show the market was on track to produce a whopping 1.18 million new single-family home starts and 307,000 multi-dwelling unit (MDU) start in 2020 (the latest data available at press time was through the end of October).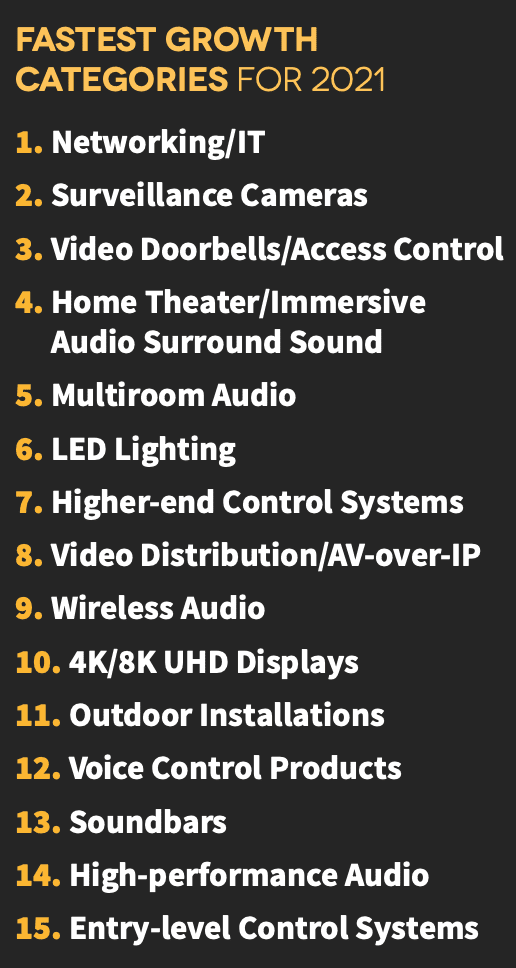 Overall, the single-family starts are an 8.6% increase and the highest since 2007, before the housing bubble burst due to financial speculation and loan mismanagement. The MDU numbers are actually down 16% from 2019 as people flee the cities for the suburbs, in many cases driven by the ability to work remotely from their homes.
So, with that as a backdrop, it is not surprising to see that dealers report earning 54.6% of their residential revenue in 2020 from new home construction, compared to 45.4% from existing homes. Those percentages reverse a trend that has continued over the past several years.
Before the housing bubble burst, CE pros reported at one point earning more than 60% of their revenues from new home construction. That percentage crept downward every year until several years ago when the majority of revenues came from existing homes. In 2019, dealers earned 53.8% of their revenues from remodels/existing homes and 46.2% of their residential revenues from new construction.
Those revenue-source numbers are mirrored in terms of percentage of integrators who said they did at least one project in particular niche markets. Overall, single-family, custom-built homes remain the sweet spot for integrators, with 77.4% of dealers doing at least one project in that niche last year. Two-thirds of dealers (67%) did at least one single-family remodeling project, while 39% of dealers worked in single-family, production-built homes last year. The percentage of dealers who did work in the MDU space ticked up slightly in 2020 versus 2019. In 2020, 35% of CE pros did at least one job in a multi-family living space, compared to 31% the previous year.
As noted previously, the commercial market has taken a hit with the pandemic. As such, it is not surprising to see that in 2020 there was a lessening of commercial business done by CE pros. For the past several years, commercial projects have represented a growing chunk of integrators' work, culminating with a peak in 2019 during which 41.7% of revenues came from commercial jobs. But in 2020, that trend spiraled downward to just 17% of revenues from commercial projects last year, with 68% of work coming from residential jobs.
Influence, Buying Channels
As expected, integrators continue to be the primary decision-makers on product selection. On more than three-quarters of projects (75.5%), the integrators have "great influence" on which brands are selected. Homeowners have the second-most influence, with CE pros reporting that more than half the time (57%) the homeowner is integral to the brand choice process.
Top 5 categories home theater and multiroom audio were both given a boost as commercial theaters were shut down during the pandemic and people leaned on their TVs, projection systems and music options for home entertainment
Respondents also report that interior designers, builders and then architects also have a strong say in product selection, in that order. Interestingly, the least influential person in terms of product specification in 2020 was a third-party consultant. Typically, consultants are more common in commercial jobs, but with the commercial market sagging due to COVID-19, it makes sense that their influence would be down. Indeed, in 2019 dealers reported that consultants had more influence than designers, architects and builders, but not in 2020.
In another clear trend, the days of walking into the distribution branch are waning. Just 4% of products in 2020 were purchased by visiting a distribution branch in-person. Obviously, the pandemic played a big role in that drop, which is 50% lower than it was in 2019 when 8% of products were bought at the distributor location. In 2018, 10% of products were purchased at the branch, so the downward trend is continuing.
Electronic portals continue to be the No. 1 way dealers buy their equipment, with almost half (48%) of all purchases done in that manner either with the manufacturer directly or a distributor. Email is the second-most-common method, followed by phone ordering.
There was little change in 2020 regarding the purchasing sources. In total, 45% of products were bought directly from the manufacturer, 33% from distributors, 13% via an online retailer such as Amazon, and 8% from physical retailers such as The Home Depot, Lowe's, Best Buy or warehouse stores.
Hot Product Areas; 2021 Outlook
When asked which categories of equipment they believe will be strong in 2021, there were not many surprises. Home networking/IT installations top the list with 59% of integrators indicating the category will be hot for them next year.
Surveillance cameras are the second "hottest" category, with 63% of respondents saying they are anticipating an increase in business from that area. It is not a surprise — historically, when unemployment rises, so do crime rates. There has already been a spike in violent crime in 2020. In that same vein, video doorbells/ access control systems are the third-most-anticipated category of equipment set to jump in 2021. As the pandemic hit, more homeowners eschewed physical shopping in favor of online delivery, which leads to porch piracy.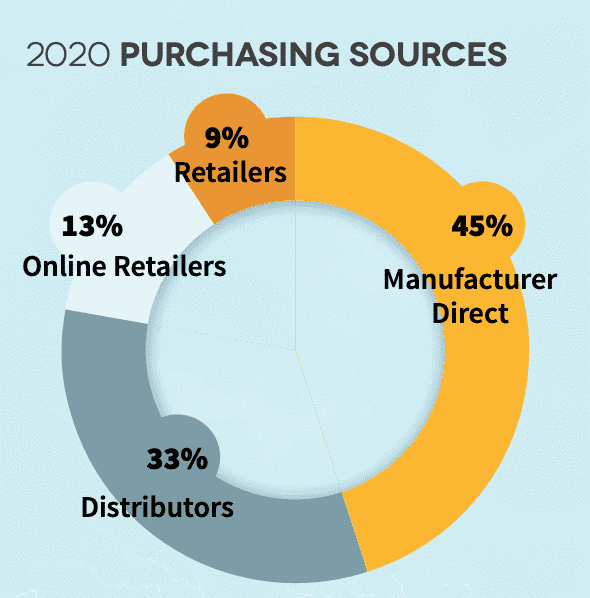 Rounding out the top 5 hottest categories are home theater and multiroom audio. Both categories have been given a boost due to the pandemic as commercial theaters shut down, forcing homeowners to turn to their TVs and projection systems for entertainment. Likewise, music listening is on the rise as more people are home. Sonos reported in the first months of the pandemic in the spring that listening hours were up a staggering 42%.
For the first time in a decade in the survey, the lack of labor was not listed as the No. 1 challenge dealers face. It was supplanted by "unprofessionalism" in the industry. That trend might be reflected in the growth in the median number of employees — it appears integrators are finally able to find workers … perhaps those who have been displaced in other industries hurt by the coronavirus.
Meanwhile, the growing influx of DIY/ low-margin products continue to haunt dealers, as does the outlook for the economy, as the No. 3 and No. 4 worries. Competition from security dealers and electricians, along with increased manufacturer consolidation that limits their product choices, are also listed as concerns.
Other challenges integrators mentioned for 2021 included COVID-19 uncertainty influencing travel restrictions and supply chain problem, tax increases, poor work habits creeping up, and unpredictable commercial market.
---
ABOUT THE AUTHOR

Follow
Jason Knott:
Jason Knott is Chief Content Officer for Emerald's Connected Brands. Jason has covered low-voltage electronics as an editor since 1990, serving as editor and publisher of Security Sales & Integration. He joined CE Pro in 2000 and serves as Editor-in-Chief of that brand. He served as chairman of the Security Industry Association's Education Committee from 2000-2004 and sat on the board of that association from 1998-2002. He is also a former board member of the Alarm Industry Research and Educational Foundation. He has been a member of the CEDIA Business Working Group since 2010. Jason graduated from the University of Southern California.
View Jason Knott's complete profile