8.27.18 – CEPro –
2018 CE Pro Wage & Salary Study reveals average annual wages and benefits by region and size of company for installation and service technicians, sales managers, administrative personnel, project managers and more.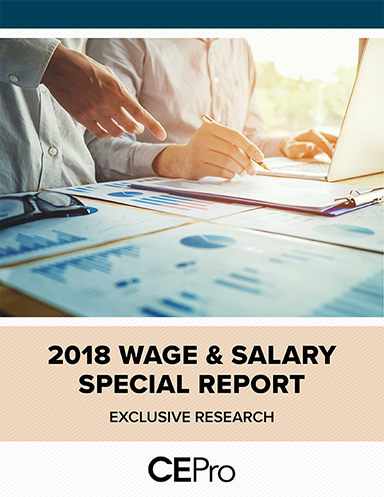 Despite extreme shortages in technicians, sales staff, and management personnel in every corner of the U.S., wages among employees in custom integration companies have not grown outrageously.
Indeed, wage increases being paid by integrators are keeping pace with the general cost-of-living increases in the economy in all sectors of business.
In other words, integrators are keeping a solid rein on their spending and keeping within their business models, unwilling to overpay technicians, sales and management personnel.
The inevitable result is likely a longer backlog of projects in which clients are forced to wait for their custom installation services.
That trend is just one result from new exclusive research from CE Pro in the 2018 CE Pro Wage & Salary Study. Overall, wages paid to technicians have increased 9 percent since November 2015, the last time the study was conducted.
Entry-level technicians are paid $16.48 per hour in 2018. This year's study was conducted in June 2018, a 32-month gap since the previous study. So, to get specific, that calculates to a 3.4 percent increase per year. That rate mimics the overall trend in other industries in the U.S.
This exclusive study also breaks down:
Labor profitability
Wage and salary comparisons by nine regions of the country
Wage and salary comparisons by size of company
Hourly wages for entry-level and veteran installation technicians, entry-level and experienced service technicians, and entry-level and experienced sales managers.
Annual salaries for general managers, project managers, designers, programmers, IT staff, and administrative personnel.
Predicted wage increases for 2018.
Benefits offered, including vacations, health insurance, tool allowances, education stipends, product discounts, cellphone reimbursements, 401k, trade show travel, vehicle reimbursements and more.
Average bonuses paid, including what the bonuses are based on and when they are paid
Sales commission structure for both salespeople and service technicians who upsell in the field.