6.6.19 – CEPro – Jason Knott ·
Integrators are offering perks such as 24-hour phone support, guaranteed response times, same-day emergency response to differentiate in their respective markets.
As the custom electronics industry begins to place more of an emphasis on service, integrators are being challenged to look at the level they actually provide for their clients. In some cases, CE pros with smaller operations might find themselves hard-pressed to offer certain levels of service for their clients.
Recently, the Home Technology Association (HTA) conducted research to gauge the types of service functions that integrators provide. The research was undertaken as part of the HTA's "Best in the U.S." program aimed at setting a higher bar for the custom electronics industry.
The group's recognition program is designed to enable integration companies to further differentiate themselves in the market. The results of the research are enlightening because it enables integrators worldwide to examine their own operations to determine whether they can, cannot, should or should not be offering some of these service functions.
"Due to competitive pressure in the marketplace, several dealers have felt the need to add 24-hour phone support either in-house or through service provider line OneVision or Parasol. Better service for the client — another win!"
— Josh Christian, HTA
Indeed, according to Josh Christian, director of certification at HTA, some members reported that in reaction to some of the questions, they made appropriate changes.
In particular, he cites a question about whether or not an integrator has clearly outlined all its service policies including response times and billable hourly rates in its service agreement.
"Some of them said it made them finally write down their policies and share them with their clients early, before any misunderstandings of what is covered (or not) crops up later and potentially sours the relationship. This has also made it easier for these dealers to bring RMR through service and maintenance contracts," he says.
"Due to competitive pressure in the marketplace, several dealers have felt the need to add 24-hour phone support either in-house or through service provider line OneVision or Parasol. Better service for the client — another win!"
Some of the service activities are no-brainers, like having your service policy on your website, or having the ability to remotely log-in to your clients' systems and reboot or troubleshoot problems, possibly eliminating the need to roll a truck for a service call.
Other service offerings are not so simple, like 24-hour phone support or same-day emergency service. Even the best CE pros in the industry do not provide some of these services.
14 Service Functions/Penetration Levels
Here is a list of 14 service functions and the percentage of HTA members offering that particular function, which will help you gauge whether it is a function you might need to add for competitive reasons. Are these services you might consider reevaluating for your own operation?
Remote System Monitoring in Place – 97%
Not too many years ago, the idea of having a remote log-in capability to your clients' equipment and the ability to do reboots or generally troubleshoot a system was rare. Today, it is nearly ubiquitous.
Same-Day Emergency Service – 92%
More than nine in 10 say they will respond to an emergency during weekday work hours with an onsite service call. That level of service response can be a major differentiator.
Dedicated Support Email Address – 82%
Most communication with clients these days is via electronic means, so it makes sense that more than eight out of 10 integration companies have a special email just for tech support for their clients.
Service Agreements in Place – 76%
When asked if they have a service agreement in place that clearly outlines all their service policies including response times and billable hourly rates, more than three out of four HTA companies said they do.
While the security industry has focused on basic monitoring to feed its RMR business, more integrators are finding success with service agreements to their clients.
Service Ticketing System – 72%
Nearly three in four HTA integrators use some form of a service ticketing system to track their service events (and non-events).
Read Next: 8 Fixable Mistakes Integrators Often Make on Their Websites
Indeed, ticketing systems are often integral for not only assigning a service call, but also documenting a phone conversation or email conversation that ultimately does not result in an onsite truck roll.
Remote System Monitoring on Every Project – 70%
Taking RSM one step further, seven in 10 respondents say they have remote capabilities in place for every project they install now. In the past, this remote login capability was typically limited to large projects only.
Dedicated Service Team – 62%
The definition of a service "team" can mean a single individual or multiple people, but more than six in 10 responded that they have dedicated personnel of some sort for service versus using installation technicians.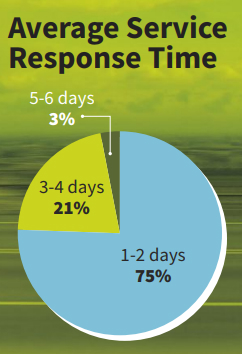 24-Hour Phone Support – 56%
Unfortunately, for some integrators, "24- hour phone support" means that clients have your cellphone number and don't mind waking you up at 3 a.m. because their cable box is out and they want to binge watch Game of Thrones.
Dedicated Phone Support Line – 55%
Just as many manufacturers offer a dedicated support line for integrators (versus consumers), many integrators have now established a dedicated support line for their customers.
This connects the caller directly to a tech-support person instead of calling the general number for the integration company and being transferred around.
Dedicated Person for Service Coordination – 55%
In some integration companies there is more than one person who handles the service dispatching, but in others, it is centralized under one individual.
There are pros and cons for both scenarios and there does not seem to be a clear demarcation based on company size on this decision.
24-Hour Emergency Onsite Service – 54%
For most integration companies, the ability to offer 24-hour support, even for emergencies, is difficult. But as some custom integration companies are finding, having some level of 24/7/365 support can be a major differentiator.
It can also be a big reason a client might sign a service agreement, helping to generate recurring monthly revenue (RMR).
Guaranteed Response Times – 53%
Only about half of integrators "guarantee" response times for clients for their service calls.
In traffic-laden cities like Los Angeles or Boston, getting from one end of town to the other can be a tricky, so guaranteeing response times can paint yourself into an unnecessary corner. However, it looks good to clients to be able to promote it.
Single Warranty/ Workmanship Agreement – 46%
Less than half of companies merge their aftermarket warranty policy agreement in with their installation agreement.
It is not surprising given the varying warranty timeframes that manufacturers offer for different pieces of equipment, which likely do not jibe with the timeframe integrators offer for their installation workmanship.
Service Policy on Website – 12% 
Placing your service policies on your website is not something many dealers do. There is a strong argument not to.
Do you really want to have a policy, which likely has lots of stipulations and perhaps even some legalese, online for potential clients to see? It could give the impression that you are too "by the book" or even litigious.